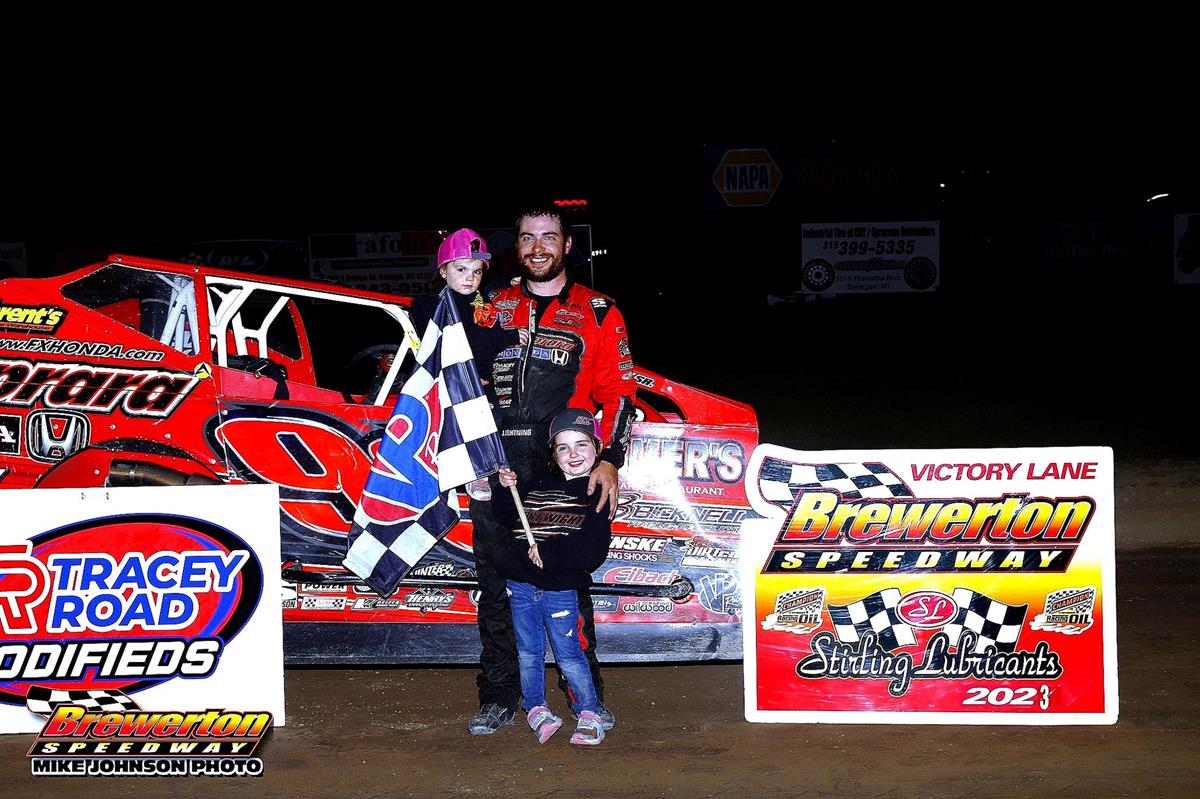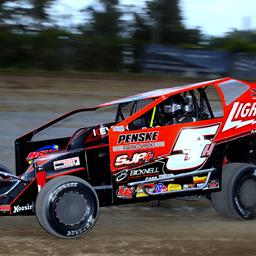 5/20/2023
Brewerton Speedway
---
Larry Wight Lightning Quick Going to Brewerton Speedway Modified Victory Lane
By Dave Medler
BREWERTON, NY – (May 19, 2023) – Thirty-one Tracey Road DIRTcar Big Block Modifieds signed into the Brewerton Speedway pits Friday night that would see Larry Wight going to victory lane after the exciting, and hard fought 35-Lap feature.
Wight started the feature in fourteenth and had his car working on every lane on the speedway working his way to the front and taking the lead on lap sixteen. Once out-front Wight would outrun Ronnie Davis III, Tim Sears Jr., Chris Hile, and early leader Tom Sears Jr. who finished second through fifth.
Other winners on Burdick Ford night were, Brandon Carvey, (DOT Foods DIRTcar Sportsman) Kyle Demo (AmeriCU Credit Union Mod Lites) Chris Bonoffski (Mirabito Four-Cylinders).
Matt Caprara and Marcus Dinkins would bring the Modified field down to the green, with Caprara leading the opening lap before Tom Sears Jr. drove into the top-spot one lap later.
By lap five, Sears opened a half a straight lead leaving Caprara, Dinkins, Todd Root, and Zach Payne to race for second through fifth.
Sears would stretch his lead to almost three seconds with ten laps showing on the scoring tower. Caprara, Root, and Larry Wight from fourteenth were still in contention in the top-five.
Disaster almost struck Tom Sears Jr. on lap thirteen. Going into turn one a car in the back of the field spun in front of him as he clipped the car with his front end and kept going with no apparent damage.
When the green came back out Wight would move into second and then took the lead on lap sixteen.
After taking the lead there would be cautions to tighten the field up and give cars behind Wight a shot at the lead and the win. Wight was not to be denied driving first under the checkers. Ronnie Davis III, Tim Sears Jr., Chris Hile, and Tom Sears Jr. finished second through fifth.
Weekly DIRTcar 358 Modified Bonus: Amy Holland ($300) Alan Fink ($200) Chris Mackey ($100).
Buddy Leathley led the opening four laps of the 25-Lap Sportsman feature when he would clip an infield tire in turn one causing him to spin and giving the lead to Brandon Carvey.
At lap ten Carvey would hold a slim advantage over Cody Manitta, Zach Sobotka, Dorian Wahdan, and Tony Finch II.
Carvey was able to drive out to a half a straightaway lead over Manitta with ten laps remaining. Sobotka, Finch, and Wahdan still raced in the top-five.
A caution on lap twenty-three would erase Carvey's two second lead setting up a dash to the checkers.
When the green waved, Brandon Carvey was glued to the bottom of the speedway winning by 1.2 seconds over Cody Manitta. Zach Sobotka, Ton Finch II, and Brett Sears completed the top-five.
Kyle Demo would take the lead from Joel Moller on lap two of the 20-Lap Mod Lite feature and never looked backed holding off Zack Babcock and Mike Mullen at the checkers. Tom Mackey, and Brad Harris finished fourth and fifth.
Chris Bonoffski rolled to an easy win in the 15-Lap Four-Cylinder feature by leading every lap. Daniel Valade, Colby Herzog, Zak Petrie, and Anthony VanEpps finished second though fifth.
Kick off your Memorial Day weekend next Friday, May 26 when the methanol breathing, winged warriors of the Empire Super Sprints invade the 'D-Shaped Dirt Demon' on their 40th Anniversary Tour.
Joining the Sprint cars on A-Verdi Storage Containers night are the ground pounding, 800 Horsepower, Tracey Road DIRTcar Big Block Modifieds, DOT Foods DIRTcar Sportsman, and the Mirabito Four-Cylinders. Mod Lites have the night off.
Admission:
Adult G/A - $25.
18 Years and Under – Free.
Pit Passes:
DIRTcar/ESS Member - $40
Non-Member - $45
Pits Open – 4:30 PM
Grandstands – 5:30 PM
Hot Laps – 5:50 PM
Racing Starts – 7:00 PM
Direct any questions on race day activity or sponsorship opportunities to Cory Reed at (315) 668-6906 or cory@brewertonspeedway.com.
For all the latest news, go to www.brewertonspeedway.com and like the speedway social media pages.
Brewerton Speedway is located at 60 US 11 – Central Square, NY.
Burdick Ford Night May 19 Results
Tracey Road DIRTcar Big Block Modifieds – (35 Laps): 1 (Results): 1-Wight.L 2-Davis.R(III) 3-Sears.Tim(Jr) 4-Hile.C 5-Sears.Tom(Jr) 6-Phelps.C 7-Caprara.M 8-Smith.D 9-Gill.J 10-Payne.Z 11-Holland.A 12-Fink.A 13-Zacharias.D 14-McLaughlin.M 15-Mackey.C 16-Hill.M 17-Witko.J(Jr) 18-Krause.N 19-Trump.T 20-Podsiadlo.D 21-Taylor.J 22-Roberts.A 23-Landers.J 24-Root.T 25-Dinkins.M 26-Phelps.J 27-Beardsley.S 28-Parkhurst.J 29-Ferguson.A 30-Harris.T
DIRTcar 358 Feature Bonus: 1. $300. 2. $200. 3. $100: Amy Holland, Alan Fink, Chris Mackey
Tracey Road DIRTcar Big Block Modifieds B- Main 6Q – (12 Laps): 1-McLaughlin.M 2-Smith.D 3-Sears.T(Jr) 4-Zacharias.D 5-Fink.A 6-Parkhurst.J 7-Mackey.C 8-Holland.A 9-Harris.T 10-Witko.J(Jr) 11-Podsiadlo.D 12-Landers.J 13-Prentice.J
DOT Foods DIRTcar Sportsman – (25 Laps): 1 (Results): 1-Carvey.B 2-Manitta.C 3-Sobotka.Z 4-Finch.T(II) 5-Sears.B 6-Murtaugh.R 7-Hulsizer.C 8-Wahdan.D 9-Marshall.S 10-Brewer.C(III) 11-Devendorf.K 12-Rogala.R 13-Miller.A 14-Rudy.E 15-Corcoran.T 16-Root.M 17-Leathley.B 18-Hollenbeck.H 19-Button.M 20-Dupra.J 21-Hayes.B 22-Dolbear.R 23-Parkhurst Jr..J
NAPA Know How Chase Elliott Bonus: Stephen Marshall
AmeriCU Credit Union Mod Lites – (25 Laps): 1-Demo.K 2-Babcock.Z 3-Mullen.M 4-Mackey.T 5-Harris.B 6-Kitts.M 7-Moller.J 8-Olschewske.R(Jr) 9-Malbouf.J 10-Skinner.K 11-Isabell.J 12-Gloska.M 13-Garafolo.J 14-Garafolo.N 15-Zack.G
Mirabito Four-Cylinders – (15 Laps): 1-Bonoffski.C 2-Valade.D 3-Herzog.C 4-Petrie.Z 5-VanEpps.A 6-Powers.N 7-Koch.C 8-Parker.A 9-Rider.D(Jr) 10-VanEpps.W 11-VanEpps.D 12-Burdick.S 13-Inman.E 14-Valade.C 15-Mackey.K 16-Burdick.E
---
Submitted By: David Medler
Back to News