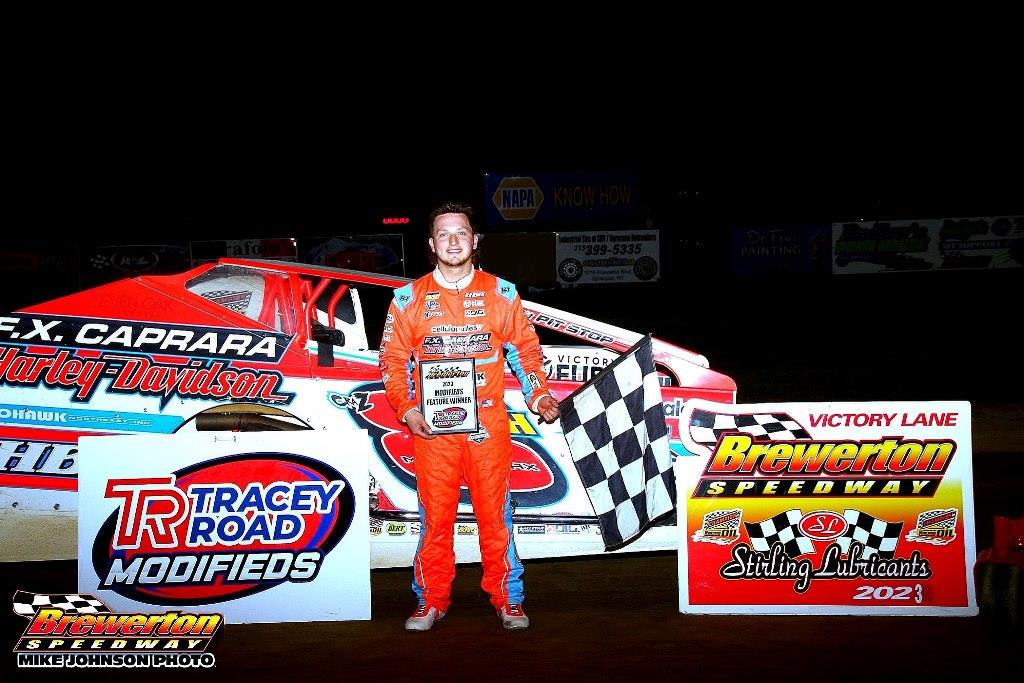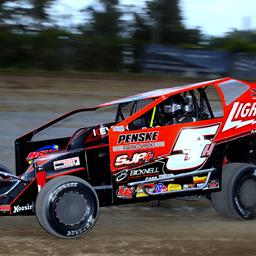 5/13/2023
Brewerton Speedway
---
Max McLaughlin Wins Brewerton Speedway Modified Opener
By Dave Medler
BREWERTON, NY – (May 12, 2023) – Brewerton Speedway season opener Friday night saw a great crowd and a pit full of cars to kick off the 2023 racing season presented by Ferris Mowers.
Max McLaughlin topped the 30-car starting field to win the 35-Lap Tracey Road DIRTcar Big Block Modified feature, out running Tim Sears Jr. for the popular win.
Other feature winners were, Stephen Marshall (DOT Foods DIRTcar Sportsman) Justin Williams (AmeriCU Credit Union Mod Lites) Corey Valade (Mirabito Four-Cylinders).
Jackson Gill and Max McLaughlin would lead the thirty-car starting field down to the green, with McLaughlin grabbing the lead at the start of the 35-Lap Big Block Modified feature.
McLaughlin would lead the first three laps until Ron Davis III on the topside of the speedway drove into the lead.
With ten laps complete, Davis and McLaughlin were still showing the way out front while putting cars down a lap. Tim Sears Jr., Gill and Chad Phelps battled for top-five spots.
A yellow on lap twelve would slow the pace. On the restart, McLaughlin retook the lead with Sears moving to second, dropping Davis to third.
With fifteen laps showing on the scoring tower, McLaughlin, Sears, Phelps, Davis and Chris Hile were the top-five cars.
McLaughlin would open the biggest lead of the race at a half a straightaway by lap twenty over Sears. Phelps, Hile, and Davis were still in contention for the win or a top finish.
With ten laps to go McLaughlin was still quick out front, putting lap cars between himself and Sears, with Hile, Chad Phelps, and Jimmy Phelps racing for third through fifth.
With no yellows late to tighten the field up, Max McLaughlin cruised to the win. Tim Sears Jr., Jimmy Phelps, Chris Hile, and Dave Marcuccilli completed the top-five.
Marcuccilli was the $100 Hard Charger of the race from A to Z Contracting coming from twenty-first starting position, to fifth. And he also collected a $300 bonus being the highest finishing DIRTcar 358 Modified.
The 25-Lap Sportsman feature would see Stephen Marshall and Brett Sears grab the top-two spots setting an early fast pace, while the racing was two-three-wide behind them.
On lap ten Marshall had the biggest lead of the race of ten car lengths, while behind him, you could have thrown a blanket over Jason Parkhurst Jr., Sears, Richard Murtaugh, Chris Hulsizer was somehow fast with a real soft left rear tire.
With ten laps to go, Marshall was still fast out front with a quarter of a straightaway lead over the tight fight for positions behind him with Parkhurst Jr., Murtaugh, Sears, and Hulsizer.
A yellow with two-laps to go would give the field one last shot at Marshall to steal a win away.
When the green came back out, Richard Murtaugh heavily pressured Marshall. Stephen Marshall didn't flinch running the bottom of the speedway as he was first under the checkers for his first ever victory in the DOT Foods DIRTcar Sportsman at the Brewerton Speedway. Richard Murtaugh, Chris Hulsizer on that left rear tire that might have had a pound of air in it, Emmett Waldron and Zach Sobotka finished a strong second through fifth.
Joe Isabell would lead the opening three laps of the 20-Lap Mod Lite feature when Justin Williams would go from third and into the lead.
Once out front, Williams would lead the rest of the way, holding off Zack Babcock, Joe Isabell, defending track champion, Mike Mullen, and Matt Kitts to complete the top-five.
Defending track champion Chris Bonoffski would go from his fifth starting spot in the 15-Lap Four-Cylinder feature to the lead on the opening lap. Just when it looked like Bonoffski would run away and hide, he would go up in smoke on lap eight, handing the lead to Corey Valade.
Valade would lead the rest of the way, holding off a late challenge from Zak Petrie for his first win. Daniel Valade, Nate Powers, and Clayton Koch finished third through fifth.
This Friday, May 19 Burdick Ford, the sponsor for the Jr. Fan Club Bike Giveaway, will present the fast-four racing program featuring the Tracey Road DIRTcar Big Block Modifieds, DOT Foods DIRTcar Sportsman, AmeriCU Credit Union Mod Lites, Mirabito Four-Cylinders.
Adult G/A Admission: $15.
18 Years Old & Younger: Free
Pit Passes All Ages:
DIRTcar/IMCA Members: $35
Non-Members: $40
Pits Open: 4:30 PM
Grandstands: 5:30 PM
Hot Laps: 6:10 PM
Racing Starts: 7:00 PM
Direct any questions on race day activity or sponsorship opportunities to Cory Reed at (315) 668-6906 or cory@brewertonspeedway.com.
For all the latest news, visit www.brewertonspeedway.com and like the speedway social media pages.
Brewerton Speedway is located at 60 US 11 – Central Square, NY.
---
Submitted By: David Medler
Back to News