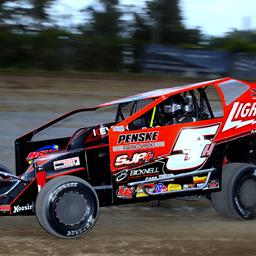 1/4/2023
Brewerton Speedway
---
Brewerton Speedway Divisional Sponsors Renew For 2023
By Dave Medler
Baldwinsville, NY (January 5, 2023) – Brewerton Speedway, Central New York's Friday night home for DIRTcar Big Block Modifieds racing, will roar to life on Friday, May 5 for another full season of action. Speedway officials are pleased to announce DIRTcar Modifieds, DIRTcar Sportsman, Mod Lites and four-cylinder Superstocks will continue to be the weekly core classes with title sponsorship of each class remaining unchanged from 2022.
The DIRTcar Modified class sponsor the past eleven years, Tracey Road, continues their support of Brewerton's headline class in 2023. A full season of Big Block races are planned under the DIRTcar banner. The 358-Modified bonus that has been offered weekly since 2021 will continue, as well, courtesy of Tracey Road.
Serving municipalities and highway & construction professionals in the Capital District, Central, and Western New York markets, Tracey Road Equipment represents a full range of trucks, trailers, machines, and attachments from some of the leading manufacturers in the industry.
To see everything Tracey can do for you, call their Syracuse location (315) 437-1471: Toll Free: 800-872-2309. Or visit 6803 Manlius Center Road, East Syracuse NY to speak to one of their many professionals for your needs. Also go to www.traceyroad.com and www.facebook.com/TraceyRoad
DOT Foods, located at 200 Monarch Drive in Liverpool, NY, will return for its fifth season as the title sponsor for the highly popular DIRTcar Sportsman class.
In 2022 the Brewerton Speedway Sportsman Track Championship was not decided until the final points night with Amy Holland being crowned Champion narrowly edging Alan Fink. Both are expected to move up to chase Modified glory in 2023 leaving the door open for a new champion.
DOT Foods started with a little red station wagon in 1960 with the husband-and-wife team of Robert & Dorothy Tracy, is now the nation's largest food industry redistributor, DOT Foods develops innovative supply chain solutions for customers in all fifty states and thirty-nine countries. They are a family-owned and -operated company and operate from eleven distribution centers across the United States. Dot Foods is actively hiring driver and warehouse help. For information, visit www.dotfoods.com or call (315) 457-4911.
AmeriCU Credit Union returns as the Title Sponsor of The Brewerton Speedway Mod Lite class, which remains a fixture at the track. The AmeriCU Mod Lites will compete weekly at Brewerton Speedway and compete for points in select events at Fulton Speedway.
As a credit union, AmeriCU is a not-for-profit financial institution owned by members. They provide you with all the products and services you need – often with low or no fees, and better rates. AmeriCU has been serving the local community for over 65 years and, in that time, have grown to more than 130,000 members, nineteen locations, and $1.5 billion in assets.
Nationally Recognized for Excellence, AmeriCU is proud to have been chosen as one of the best credit unions in New York State by Forbes Magazine. Their second annual list of America's Best Credit Unions in Each State ranks AmeriCU fourth overall in New York State. AmeriCU is the only credit union in Central and Upstate New York to have been included in the esteemed list. To see everything, they have to offer for all your financial needs, please log onto www.americu.org or call them toll free at 800.388.2000.
Mirabito enters its second year as the sponsor of the Four-Cylinder Superstock division. A full season of Four-Cylinder action is planned at Brewerton, with some dates scheduled at Fulton as well.
Mirabito Energy Products is a family-owned energy business based in Binghamton, New York. For nearly one hundred years, homes and businesses have trusted us as their energy experts to provide safe, reliable, affordable, and convenient solutions for their energy needs at home, at work, or on the go. Additionally, Mirabito has over one hundred convenience stores throughout Central NY and Northeastern PA, it is a convenient stop for customers and one of the largest convenience store chains in Central New York. They have two locations near the Brewerton Speedway in Brewerton, NY, and Central Square, NY for your one-stop place for fuel, snacks, and fresh foods.
Additional classes are being added as speedway officials finalize the 2023 schedule with an early February release scheduled. Sponsorships and advertising opportunities are available for each track. Call (315) 638-4056 or email cory@brewertonspeedway.com for more information.
---
Submitted By: David Medler
Back to News