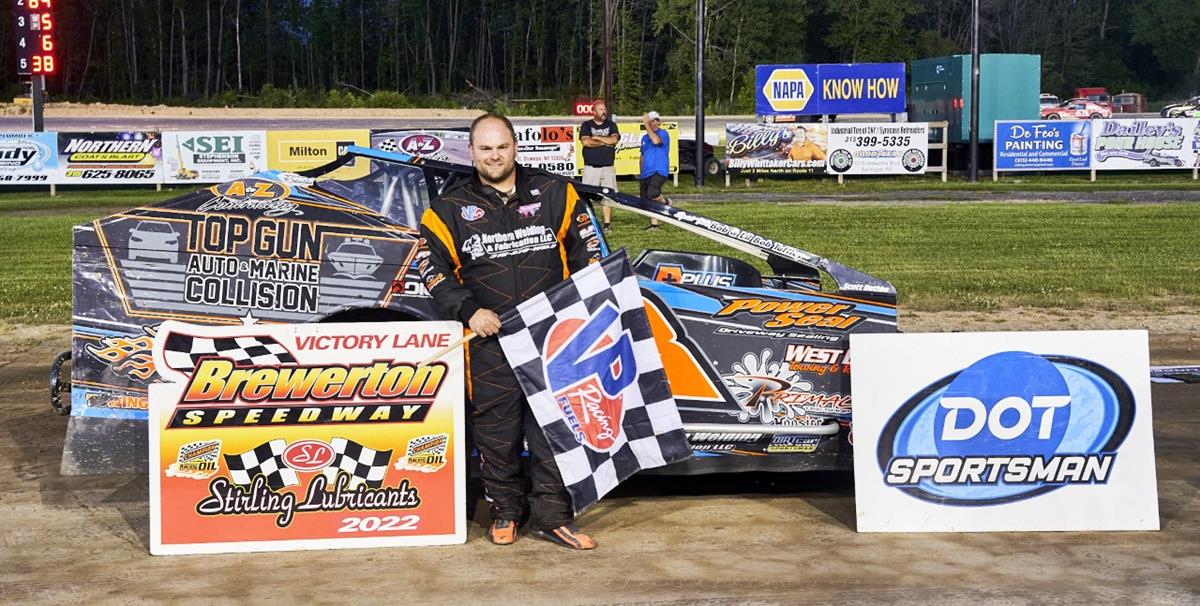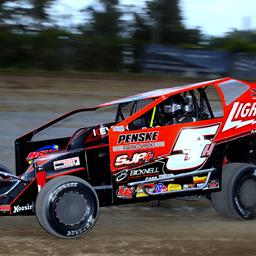 6/25/2022
Brewerton Speedway
---
Alan Fink, Joe Garafolo, and Damien Bechler Brewerton Speedway Feature Winners
BREWERTON, NY – (June 24, 2022) – Friday night a large crowd turned out for an exciting night of racing capped off with a pair of King's Smash 'Em Crash 'Em Demolition Derbies at the Brewerton Speedway.
Feature winners on Billy Whittaker Cars & Trux Night were, Alan Fink (DOT Foods DIRTcar Sportsman) Joe Garafolo (AmeriCU Credit Union Mod Lites) Damien Bechler (Mirabito Four-Cylinders).
Rich Townsend and Mike Root would swap the lead back and forth in the early laps of the 25-lap Sportsman feature while racing behind the top-two was two and three wide.
With ten laps showing on the scoring tower Townsend opened a half a straightaway lead, leaving Stephen Marshall, Richard Murtaugh, Alan Fink, and Root to battle for second through fifth.
Townsend still showed the way out front with ten laps to go as heavy traffic ahead allowed Marshall, Fink, point leader Amy Holland, and Murtaugh a way to close in on the leader.
A yellow on lap seventeen would give the leaders a clear track ahead for the final laps. Fink took advantage of the yellow as he would drive into the lead after restarting in third.
Over the final laps Alan Fink would hold off first Amy Holland and then Tyler Corcoran for the win. Tyler Corcoran, Amy Holland, Cody Manitta, and Zach Sobotka completed the top -five.
The 20-lap Mod Lite feature would see Joel Moller grab the lead at the drop of the green and would stay there until a restart on lap eight when Kyle Demo would take over the top-spot as he looked to put some distance between himself and the rest of the field.
On lap 14 with most of the field running the bottom, Joe Garafolo went to the topside of the speedway and blasted into the lead as the final laps started clicking off the scoreboard.
Once out front there was no stopping Joe Garafolo from going to victory lane for the first time since 2018. Mike Mullen, Kyle Demo, Tom Mackey, and Matt Kitts finished second through fifth.
Justin Pope with lead the opening seven laps of the 15-lap Mirabito Four-Cylinder feature before points leader Damien Bechler took over the lead.
After taking the lead Bechler had to hold off relentless pressure from Pope lap after lap for the hard-earned victory. Dakota Bechler, Chris Bonoffski, and Ray Bechler completed the top-five.
A wild pair of entertaining demolition derbies were run in front of a large and loud crowd to end the night.
Top-Three in the 4- & 6-Cylinder Chain & Bang: Max Lowrey, Pulaski, NY. Mark Russell, Lowville, NY. Tie for third. Klaine Russell, Lowville, NY. & Fred White, Fulton, NY. The top-three in the Junk Run were, Shawn Aman, Lodi, NY. Michael Thayer, Oswego, NY, and Adam Buteau, Deposit, NY.
Kick off your July 4 holiday weekend at the 'D-Shaped Dirt Demon' on Friday, July 1 presented by the Reagan Companies, featuring the winged warriors of the Empire Super Sprints Speedweek, the ground pounding Tracey Road Equipment DIRTcar Big Block Modifieds, DOT Foods DIRTcar Sportsman, and the Mirabito Four-Cylinders. The AmeriCU Credit Union Mod Lites have the night off.
Adult G/A $25.00, 18 years and younger is free. Pits (All Ages) $40. Pits will open at 4:00 pm. Grandstands 5:00 pm. Hot Laps 5:50 pm. Racing starts at 7:00.
Billy Whittaker Cars & Trux June 24 Results
DOT Foods DIRTcar Sportsman – (25 Laps): 1. 28-Alan Fink[10]; 2. 64-Tyler Corcoran[16]; 3. 5-Amy Holland[9]; 4. 6-Cody Manitta[12]; 5. 38-Zach Sobotka[8]; 6. 28X-Stephen Marshall[3]; 7. R19-Dale Caswell[14]; 8. 01R-Robert Gage[11]; 9. 31B-Ryan Dolbear[6]; 10. R1-Riley Rogala[7]; 11. 5D-Kyle Devendorf[13]; 12. FOX28-Tyler Stevenson[22]; 13. 33JR-Clayton Brewer III[18]; 14. 1J-John Wilber[20]; 15. 16-Earl Rudy[25]; 16. 16X-Savannah Laflair[27]; 17. 19C-Brandon Carvey[15]; 18. AONE-Bucky Hayes[26]; 19. 30-Michael Root[1]; 20. 10G-Austin Germinio[19]; 21. 13D-James Donaldson[24]; 22. 51-Richard Townsend Jr[2]; 23. 80X-Mike Button[5]; 24. 0-Tony Finch II[21]; 25. 83-Brett Sears[23]; 26. 42-Brian Murphy[17]; 27. 33-Richard Murtaugh[4]
DOT Foods DIRTcar Sportsman LCQ- (12 Laps): 1. 0-Tony Finch II[1]; 2. FOX28-Tyler Stevenson[4]; 3. 83-Brett Sears[3]; 4. 13D-James Donaldson[5]; 5. 06W-Dorian Wahdan[8]; 6. 16-Earl Rudy[2]; 7. 88H-Chris Hulsizer[6]; 8. 9D-Brett Draper[10]; 9. AONE-Bucky Hayes[13]; 10. 7D-Dustin Hutton[9]; 11. 11C-Austin Cooper[11]; 12. B1-RJ Budd[12]; 13. 16X-Savannah Laflair[7]; 14. 77L-Buddy Leathley[14]
NAPA Know How Chase Elliott Award: Ryan Dolbear.
AmeriCU Credit Union Mod Lites – (20 Laps): 1. 55-Joseph Garafolo[9]; 2. 06-Mike Mullen[8]; 3. 22-Kyle Demo[4]; 4. 99-Thomas Mackey[3]; 5. 5K-Matt Kitts[6]; 6. 19-Brad Harris[13]; 7. 155-Clayton Brewer III[2]; 8. 16-Tucker Halliday[7]; 9. 13-Jammer Applegate II[15]; 10. 9-Roger Olschewske Jr[5]; 11. 8BALL-Kelly Skinner[12]; 12. 7J-Joel Moller[1]; 13. 61-Hunter Lawton[10]; 14. 0-Mark Stevens[16]; 15. 10W-Justin Williams[11]; 16. (DNS) 11-Billy Applebee
Mirabito Four-Cylinders – (15 Laps): 1. 5M-Damien Bechler[6]; 2. 27-Justin Pope[7]; 3. 26B-Dakota Bechler[14]; 4. 16B-Chris Bonoffski[8]; 5. 26R-Ray Bechler[4]; 6. 21R-Justin Buskey[9]; 7. 99-Walt VanEpps[5]; 8. 113-Nate Powers[15]; 9. 360-Samuel Curcie[2]; 10. 27A-Alexandra Parker[1]; 11. 67K-Clayton Koch[3]; 12. 8X-Cody Thomas[10]; 13. 29K-Kingston Sprague[12]; 14. 8XC-Colby Herzog[13]; 15. (DNS) 3K-Owen Kitts
Destruction at the Demon Demolition Derbies – Max Lowery, Pulaski, NY ($1000-to-win- 4&6 Cylinder Chain & Bang): Shawn Aman, Lodi, NY ($750-to-win- Junk Run)
---
Submitted By: David Medler
Back to News