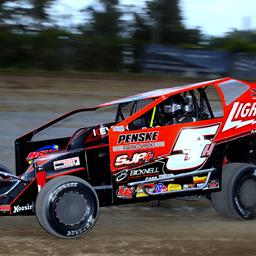 6/21/2022
Brewerton Speedway
---
Brewerton Speedway Ready for Racing & Destruction at The Demon Demolition Derbies, Friday, June 24
BREWERTON, NY – (June 22, 2022) – Racing and Demolition Derbies will take center stage this Friday, June 24 presented by major marketing partner and event sponsor Billy Whittaker Cars & Trux located just minutes north of the Brewerton Speedway on Route 11 in Central Square, NY.
Racing on the 'D-Shaped Dirt Demon' will feature the DOT Foods DIRTcar Sportsman. AmeriCU Credit Union Mod Lites. Mirabito Four-Cylinders. The Tracey Road Equipment DIRTcar Big Block Modifieds have this Friday off for the Albany Saratoga Speedway Super DIRTcar Series race.
After the racing, it will be time to line them up and let them rip in metal crunching collisions from the King's Smash 'Em Crash 'Em Demolition Derbies. On the line will be $1,000-To-Win 4&6 Cylinder Chain & Bang and $750-To-Win Junk Run.
Adult G/A - $20.00, Youth 18 years old and younger is free. Pits (All Ages) - $35. Pits open at 4:30 pm. Grandstands 5:30 pm. Hot laps at 6:00 pm. Racing starts at 7:00 pm.
Top-Five Point Standings coming into June 24:
Sportsman: 1. 5 - Amy Holland (286); 2. 28 - Alan Fink (277); 3. 19c – Brandon Carvey (273); 4. 6 – Cody Manitta (272); 5. 38 – Zach Sobotka (266).
Mod Lites: 1. 06 – Mike Mullen (262); 2. 22 Kyle Demo (255); 3. 155 – Clayton Brewer (248); 4. 16 – Tucker Halliday (243); 5. 99 – Tom Mackey (227).
Four-Cylinders: 1. 16B – Chris Bonoffski (336) 2. 67K – Clayton Koch (290); 3. 29K – Kingston Sprague (262); 4. 360 – Sam Curcie (256); 5. 99 – Walt VanEpps (166).
The speedway would like to thank major marketing partner, event sponsor, and the official pace car provider for the Brewerton Speedway, and sister track the Fulton Speedway, Billy Whittaker Cars & Trux.
"Billy Whittaker and his team do so much for our tracks and the racing community as a whole," said Fulton and Brewerton Track Manager Cory Reed, "Every time they present an event at Fulton or Brewerton they bring so much to the table for our fans with giveaways and presentation. They are a class group to work with."
If you are in the market for a new car or truck, look no further than Billy Whittaker Cars and Trux, they are just a quick run north of Brewerton Speedway on Rt. 11 between Brewerton and Central Square. Check out their website www.trophyauto.com for a selection of over 250 vehicles. Looking for a nice car for $30, $40 or $50 dollars a week? They have them. Or how about Billy's Showcase Cars, year-old, late model, low mileage cars for only $60 a week. Check out their like new TRUX for only $70 bucks a week.
They are also an official NAPA Auto Care Center, serving all of Central New York, Syracuse, and Surrounding Areas.
Need financing? Click on their 40 second finance application right now. Billy Whittaker Cars & Trux, nice cars and trux that are Good to Go! To see the great inventory they have to offer, please visit www.trophyauto.com (315) 668-CARS . As always, support those who support racing.
Any questions you might have and for marketing opportunities, contact Cory Reed at (315) 668-6906 or cory@brewertonspeedway.com. For all the latest news, go to www.brewertonspeedway.com. And like the speedway social media pages.
---
Submitted By: David Medler
Back to News