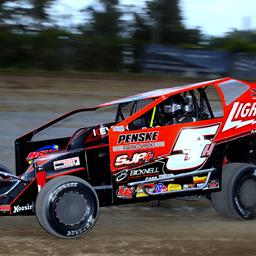 4/20/2023
Brewerton Speedway
---
Power Seal/Tarvia Seal/Eastern Paving Sportsman Challenge returns to Fulton Speedway, August 5
By Dave Medler
BALDWINSVILLE, NY (April 20, 2023) – While missed as a competitor, Tom Juno, through his familiar Power Seal Driveway Sealing Company, remains a steadfast supporter of racing at the Fulton and Brewerton Speedways. He has again organized a lucrative event for Fulton and Brewerton Dot Foods DIRTcar Sportsman to be held, Saturday, August 5.
Joined by fellow paving and sealing professionals AJ Martino from Tarvia Seal and Keith Davison from Eastern Paving, Juno has brought back the Sportsman Challenge, a race he first hosted in 2021 that will be unique in format and lucrative in purse. The event will boast a total purse of $2,500 for ten starters with at least $800 going to the winner.
Performing well in Brewerton and Fulton Dot Foods Sportsman events during the season will be the first step to Power Seal/Tarvia Seal/Eastern Paving Sportsman Challenge Glory as the ten-car field will be comprised of the top-5 in track points from Brewerton and top-5 in track points from Fulton at the time of the event.
The Power Seal/Tarvia Seal/Eastern Paving Sportsman Challenge will be run in addition to the normal sportsman activity that evening.
"Tom Juno does so much for our sport, particularly our Fulton and Brewerton Sportsman teams, "said Cory Reed, Track Manager, "Every year he tries to mix it up, make it fun, but also rewarding for the teams. We are thankful Tom is part of our family and welcome the support of AJ and Keith with this event."
Power Seal/Tarvia Seal/Eastern Paving Sportsman Challenge Format:
A "revenge draw" format will set the line-up with each driver drawing then giving their number to one of the other nine competitors, even if it's number one.
Once the line-up is determined, the field will race as one for the first six laps of the event. Adopting a pursuit race format, the last place car at the completion of lap seven and each lap after that will be sent off the track by the race director.
When just two cars remain on the track, a caution will be thrown, with the leader at the time choosing a pill to determine which lane he/she starts in for a final two lap dash for the checkered and $800 payday.
Power Seal/Tarvia Seal/Eastern Paving Sportsman Challenge Purse (as of 4/19/23):
$800

400

300

230

200

175

125

100

90

80
About Power Seal:
As a family-owned and operated business, Power Seal knows how important your home is to you. Power Seal Driveway Sealing has been making Central New Yorkers happy to come home since 1997. Sealing your driveway doesn't just make it look better, it protects the asphalt and helps reduce the chance of needing to repave the entire driveway. Questions about your driveway? Tom Juno, owner, and manager, works at every job site to make sure Power Seal customers are more than pleased with the results of their work.
Power Seal Driveway Sealing has experience with both residential and commercial driveways and parking lots. Your driveway and parking lot are the first things that your clients and business partners learn about you. From crack filling to asphalt repairs, sealing to line painting. A simple touch up to your lot can go a long way in appearances. Call Tom at (315) 622-5221 or log onto www.cusepowerseal.com for a detailed quote on your sealing project.
About Tarvia Seal:
Established in 1973, Tarvia Seal Corporation is a family owned and operated pavement maintenance company. They offer a complete line of sealing, sealcoating, crack sealing, line striping and sweeping services to commercial, municipal, and residential customers. Tarvia Seal Corp. has earned an excellent reputation due to their high-quality execution, exceptional customer service and extensive industry knowledge. Now serving customers throughout Syracuse and surrounding counties. Call Tarvia Seal at 315-458-1399 or visit www.tarviaseal.com for a quote.
About Eastern Paving:
Improve the Curb Appeal of Your Business, invest in expert paving services to add a complete look to your property. Let the professionals at Eastern Paving help you with all your commercial paving needs. At our locally owned business, your satisfaction is our top priority. Wide Range of Commercial Paving Services including: Asphalt paving, asphalt repairs, complete tear outs, concrete paving, crack filling, leveling, and grading, new construction, patching (patchwork), parking lots, resurfacing and sealcoating. Locally owned in Cicero Contact Eastern Paving at 315-288-5317 or easternpavingllc@gmail.com.
Fulton Speedway will open for the 2023 season with the Highbank Holdup Weekend on April 28 & 29 and Brewerton Speedway will follow suit on May 5. Weekly championship caliber auto racing will continue weekly through Labor Day Weekend at each track.
News and information from both speedways will be posted on www.fultonspeedway.com and www.brewertonspeedway.com and on each Speedway's Facebook and Twitter pages as it becomes available.
Advertising and promotional opportunities for either track can be discussed by calling (315) 638-4056 or by email at cory@brewertonspeedway.com.
---
Submitted By: David Medler
Back to News