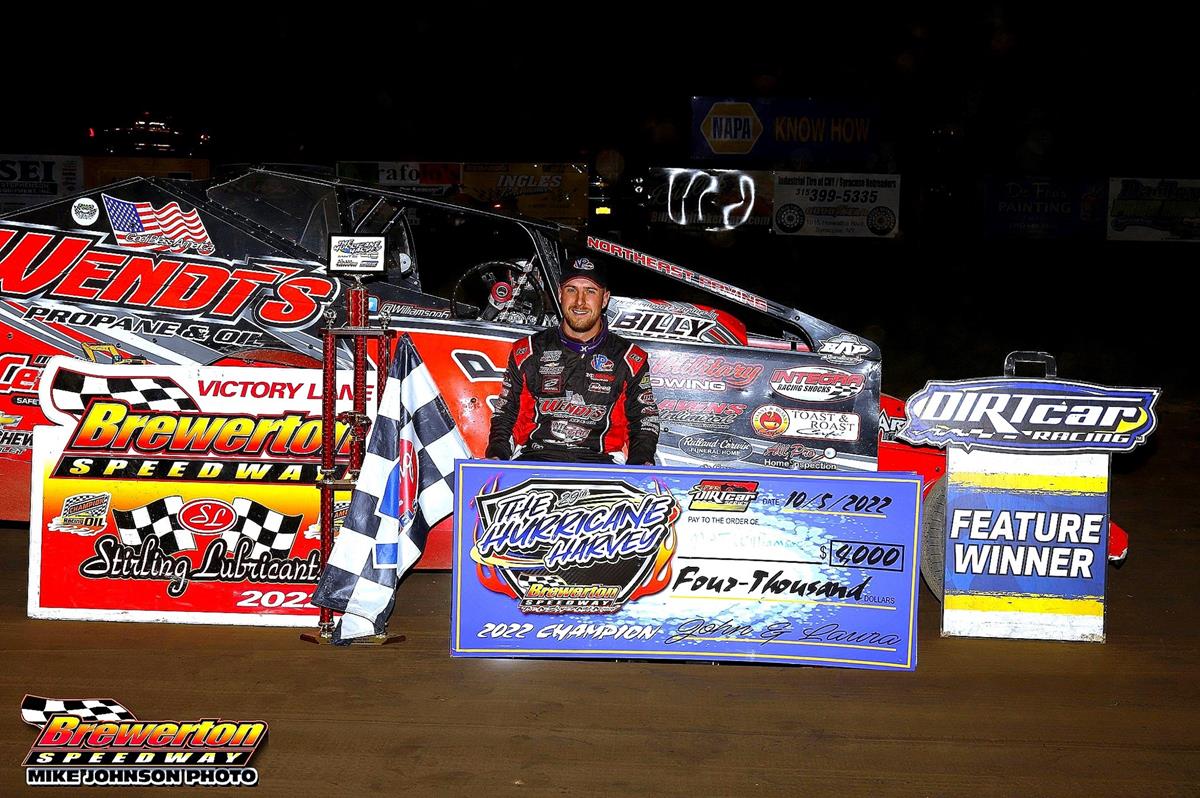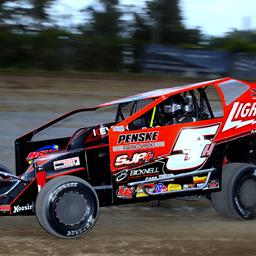 10/6/2022
Brewerton Speedway
---
MAT'S MONTH: Mat Williamson wins third straight Hurricane Harvey 75 at Brewerton
DIRTcar PR
Williamson started the day fastest in practice at Oswego Speedway and ended it with his 28th overall win of the year
CENTRAL SQUARE, NY (Oct. 5, 2022) – With the 50th Running of NAPA Auto Parts Super DIRT Week looming, Mat Williamson entered October desperate for momentum to try and claim his third straight Super DIRT Week title.
He found it Wednesday, during DIRTcar Day.
First, Williamson set the fastest laps in practice at Oswego Speedway for the Super DIRTcar Series and DIRTcar 358 Modifieds. Then, he drove about 40 minutes south to claim his third straight Hurricane Harvey 75 victory at Brewerton Speedway with the DIRTcar 358 Modified Series.
"It's pretty cool," Williamson said. "The whole CW Racing team, they do a lot for me and this car. I made a deal that they can do the satellite shows this year – we haven't lost one in a while – and I can do Oswego. After last night's performance (at Weedsport Speedway), I'm glad we got a win for them tonight."
Last year, Williamson came from 12th to win the Super DIRT Week satellite show at Brewerton. This year, he was granted one spot better, drawing the 11th starting position for the 75-lap Feature. However, that didn't help his confidence of being able to repeat.
When the race commenced, Ryan Susice inched ahead of the field in the first corner for the lead. Behind him, Max McLaughlin, Tuesday night's Super DIRT Week Kick Off Party winner at Weedsport, was trying to pick up where he left off, torpedoing his way from fourth to second by Lap 3. Two laps later, he powered around the outside of Susice to take the lead.
He went uncontested for 36 laps before Tim Sears Jr. found enough muscle to duel with "Mad Max" for the top stop. After a restart on Lap 39, Sears stayed on McLaughlin's bumper for the first circuit, giving him enough of a run to dive under the #8H Modified in Turn 1 and launch off the bottom of Turn 2 like McLaughlin was standing still, clearing him for the top spot.
Behind them, Williamson had already methodically maneuvered his way into the top five with luck and talent.
McLaughlin wouldn't let Sears get away. He held on to Sear's pumper like a linebacker trying to pull down another player. Sears ran low in Turns 1 and 2, while McLaughlin ran high, setting up the transition for McLaughlin to dive under the yellow #83X into Turn 3. Sears always got the better run off Turn 4, and they'd repeat their routine lap after lap.
Eventually, McLaughlin found an opening to break the pattern and sneak to the outside of Sears through Turns 3 and 4. This time, he used the top lane's momentum to propel himself ahead and officially reclaim the lead on Lap 60.
While they dueled, Williamson was still relentless on his trajectory to the front. He worked his way by David Marcuccilli for third and put himself in prime striking position with 10 laps to go.
With the lead in sight, Williamson found another gear. He passed Sears with 9 laps to go and didn't wait long to answer the question of if he could run down McLaughlin in time.
Once McLaughlin caught traffic, Williamson made quick work of the distance between them. Using the developed low line to his advantage, Williamson took the lead with ease on Lap 69. From there, he went uncontested to claim his 28th victory of the year – second all-time in the Northeast this year.
"Pretty cool race with Max out front," Williamson said. "It was cool to watch him and Timmer go at it. Those two are really good race car drivers. I had a front row seat for it. I didn't think I was going to get them. Fortunately, the car got even better."
McLaughlin finished second, giving him a 1-2 start to Super DIRT Week.
"When you're leading the race, you just don't know where the groove is or where it is coming in," McLaughlin said. "He just had a little bit better car at the end. I gave it all I had, that's for sure. It was fun racing with these guys. It's always fun racing with Timmer. He's one of my favorite guys in the pit area. Me and him have had a lot of good close battles this year. Cool to see Mat win. He's one of the best.
"Being able to come here and contend with these guys is pretty damn cool. Hopefully we put on a good show for you guys."
Sears rounded out the podium, disappointed with defeat but satisfied with an enjoyable race.
"The track changed a lot there at the end," Sears said. "There was definitely racing all over. Hopefully it was a good show for the fans.
"I was good at the middle of the race there, coming around the top of (Turns) three and four, but I just didn't move to the bottom fast enough. I knew the bottom was going to come in, I just didn't know when. Driver was a little late on that one."
Marcuccilli finished fourth and took the DIRTcar 358 Modified points lead after Billy Dunn exited the race early, finishing 28th. And Jimmy Phelps rounded out the top five.
Along with trying to win his third straight Billy Whittaker Cars 200 on Sunday, Oct. 9, Williamson will also try to use this winning momentum to score his first Salute to the Troops 150, on Saturday, Oct. 8.
UP NEXT: On Thursday, Oct. 6 at Oswego Speedway, the DIRTcar 358 Modifieds will Time Trial – locking the top six into Saturday's Feature – and run their Qualifying Heats. For tickets, CLICK HERE.
If you can't make it to the track, you can watch all the action live on DIRTVision – either at DIRTVision.com or by downloading the DIRTVision App.
RESULTS
Feature (75 Laps): 1. 6-Mat Williamson[11]; 2. 8H-Max McLaughlin[4]; 3. 83X-Tim Sears Jr[10]; 4. M1-David Marcuccilli[9]; 5. 98H-Jimmy Phelps[7]; 6. 60-Jackson Gill[17]; 7. 31-Lance Willix[15]; 8. 83-Danny Johnson[23]; 9. 32R-Ronnie Davis[6]; 10. 15-Todd Root[5]; 11. 15X-Justin Stone[13]; 12. 39-Ryan Bartlett[28]; 13. 713-Tommy Collins[19]; 14. 70A-Alex Payne[21]; 15. 34F-Andrew Ferguson[22]; 16. 12S-Darren Smith[12]; 17. 6NN-Nick Nye[8]; 18. 31B-Corey Barker[24]; 19. 9-Tyler Meeks[18]; 20. 11T-Jeff Taylor[20]; 21. 28T-Michael Trautschold[25]; 22. (DNF) 29-Matt Caprara[14]; 23. (DNF) 18W-Scott Webb[2]; 24. (DNF) 20K-Kyle Inman[26]; 25. (DNF) 11S-Steve Lewis Jr[30]; 26. (DNF) 38-Ryan Susice[1]; 27. (DNF) 35-Mike Mahaney[16]; 28. (DNF) 49-Billy Dunn[27]; 29. (DNF) 215-Adam Pierson[3]; 30. (DNF) 66W-Derek Webb[29]
NAPA Super DIRT Week is brought to fans by many important sponsors and partners, including: NAPA Auto Parts, DIRTVision (Official Live Broadcast Partner), Billy Whittaker Cars and Trux, CASE Construction Equipment, Chevrolet Performance and SIS Insurance. Other Super DIRT Week sponsors include: ARP (Automotive Racing Products), A-Verdi, Area Auto Racing News, ASI Race Wear, Bart Contracting Inc, Best Western Plus-Oswego, Beyea Custom Headers, Bicknell Racing Products, City of Oswego, C&S Companies, Clarion Hotel – Oswego, Cometic Gasket, COMP Cams, Dig Race Products, Empire Golf Carts, Fast Line Performance, Fast Shafts, Finishing Touch Construction, Firebull, Fox Factory, Gypsum Express, Harborfest, Hoosier Racing Tire, Integra Racing Shocks, Intercomp, iRacing, K1 Race Gear, Low-E Insulation, MSD, My Place Hotels, MPi, Penske Shocks, Racing Electronics, SRI Performance, Swift Springs, Tracey Road Equipment, VP Racing Fuels, and Wrisco-Wieland Metal Services. Special thanks to New York State.
The Super DIRTcar Series is brought to fans by many important sponsors and partners, including: Case Construction Equipment (Official Construction Equipment), DIRTVision (Official Live Broadcast Partner), Hoosier Racing Tire (Official Tire), SIS Insurance (Official Insurance Provider), VP Racing Fuels (Official Racing Fuel), Chevy Performance Parts, iRacing (Official Online Racing Game) and NAPA Auto Parts. Contingency sponsors include: ARP (Automotive Racing Products), ASI Race Wear, Behrent's Performance Warehouse, Bicknell Racing Products, Billy Whittaker Cars & Trux, Cometic Gasket, COMP Cams, Fox Factory, MSD, My Place Hotels, Swift Springs, and Wrisco-Wieland Metal Services (Exclusive Racing Aluminum); along with manufacturer sponsors, including: FIREBULL, Intercomp, and Racing Electronics.
---
Submitted By: David Medler
Back to News