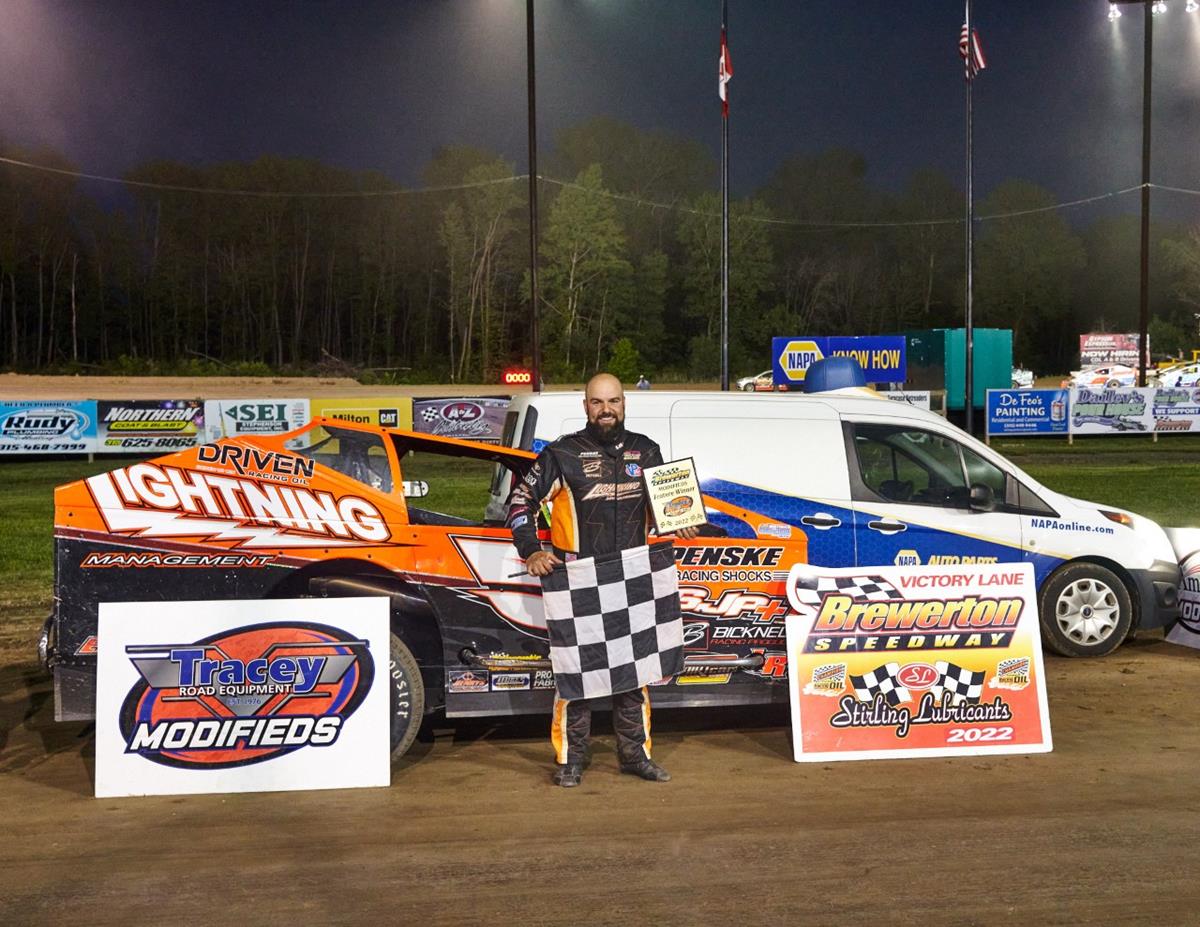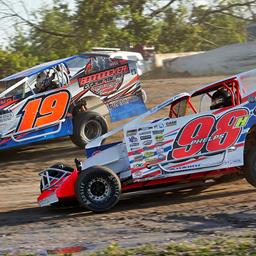 6/4/2022
Brewerton Speedway
---
Chris Hile Tops Brewerton Speedway Modified Field
BREWERTON, NY – (June 3, 2022) – All season long Chris Hile from Oswego, NY has been knocking on the door to victory lane with top finishes. Friday night Hile did not just knock on the door, he slammed it open with a victory in Tracey Road Equipment DIRTcar Big Block Modified feature.
Other winners on NAPA Auto Parts night were, Brandon Carvey (DOT Foods DIRTcar Sportsman). Mike Mullen (AmeriCU Credit Union Mod Lites). Damien Bechler (Mirabito Four-Cylinders).
Torrey Stoughtenger and Dylan Zacharias would bring the 35-Lap Modified feature down to the green with Zacharias bolting out to the early lead.
The yellow flag would wave on lap seven when points leader and two-time feature winner Tim Sears Jr. clipped an infield tire in turn one, with Jimmy Phelps also slowing. Both would continue at the back of the field.
Zacharias would continue to set a quick pace out front with Ron Davis III, Tom Sears Jr., Jeff Prentice (Small Block), and Max Hill (Small Block) racing in a tight pack for second through fifth.
On lap thirteen, Tom Sears Jr. found the bite he needed down low and would blast into the lead.
At the halfway point Sears held a five-car length lead over Larry Wight who started 14th. Zacharias, Davis, and Prentice were still quick in the top-five.
The whole complexion of the race changed on lap twenty-two in turns three and four when Sears and Wight made contact, sending Sears around. Track officials sent Wight to the rear for the contact, and would put Zacharias and Davis in the top-two spots for the restart.
As the late laps started clicking off the lap counter, Zacharias still led but now had company with Max McLaughlin who started 21st and Chris Hile who came from 13th, setting up a three-car battle to decide it.
On lap thirty-one Hile, who was getting big runs off the corners using the bottom of the speedway, moved into second and set his sights on Zacharias.
The final caution would come on lap thirty-three, setting up a green, white, checker finish. When the green lights turned back on, Hile would blast into the lead and then would drive into victory lane. Dylan Zacharias finished a season best second, followed by, Max McLaughlin, Jimmy Phelps, and Ron Davis III, to complete the top-five.
The 25-Lap Sportsman feature would see Cody Manitta jump to the lead and by lap-five would build up an almost full straightaway lead while Riley Rogala, Earl Rudy, Amy Holland, and Dale Caswell battled for second through fifth.
Manitta still set a quick pace out front on lap ten as Rogala ran alone in second with Caswell, Holland and Rudy still showing on the scoring tower.
A yellow with ten-laps remaining evaporated Manitta's lead and would see Brandon Carvey move into third from 15th starting spot and would play a big part of the finish.
With less than five-laps remaining the final caution would wave on lap twenty-two setting up a battle between Manitta and Carvey.
Brandon Carvey would hound Cody Manitta's back bumper, but Manitta would not budge. Coming into turns three and four for the final time Carvery found just enough to pull even with Manitta exiting turn four setting up a drag race to the checkers that would see Carvey winning by inches or 0.012 by AMB scoring. Riley Rogala, Tony Finch II, and Alan Fink finished third through fifth.
The 20-Lap AmeriCU Credit Union Mod Lite feature saw Matt Kitts, Hunter Lawton and Zack Babcock all lead laps with the feature coming down to the final lap. Mike Mullen drove by Hunter Lawton, winning by a slim 0.043 according to AMB scoring. Zach Babcock, Tucker Halliday, and Tom Mackey finished third through fifth.
In the 15-Lap Mirabito Four-Cylinder feature it would come down to a three-car fight with Damien Bechler holding off Chris Bonoffski and Justin Pope at the finish. Jacob Dupra and Jamie Radley completed the top-five.
This coming Friday, Ameri Tool Manufacturing and The Wild Animal Park will present a fast, affordable, family night at the races featuring the Tracey Road Equipment DIRTcar Big Block Modifieds, DOT Foods DIRTcar Sportsman, AmeriCU Credit Union Mod Lites, and the Mirabito Four-Cylinders.
Adult G/A is $15.00, 18 years old and younger are free. Pit admission (All Ages) is $35. Pits open at 4:30 pm. Grandstands 5:30 pm. Hot laps 6:00 pm with racing at 7:00 pm.
Any questions you might have and for marketing opportunities, contact Cory Reed at (315) 593-6531 or cory@fultonspeedway.com . For all the latest news, go to www.fultonspeedway.com and like the speedway social media pages.
NAPA Auto Parts June 3 Results
Tracey Road Equipment DIRTcar Big Block Modifieds – (35 Laps): 1. 5H-Chris Hile[13]; 2. 27Z-Dylan Zacharias[2]; 3. 8H-Max McLaughlin[21]; 4. 98H-Jimmy Phelps[12]; 5. 32R-Ronnie Davis III[9]; 6. 99L-Larry Wight[14]; 7. 9X-Tyler Trump[10]; 8. 160-Max Hill[6]; 9. 62S-Tom Sears Jr[11]; 10. 83X-Tim Sears Jr[15]; 11. 7Z-Zachary Payne[16]; 12. X-Chad Phelps[20]; 13. 02-Roy Bresnahan[23]; 14. 22G-Gil Tegg Jr[25]; 15. Z4-JJ Courcy[5]; 16. 38-Tim Harris[24]; 17. 4-Michelle Courcy[29]; 18. 11T-Jeff Taylor[18]; 19. 79-Jeffrey Prentice[4]; 20. 88-Joe August Jr[22]; 21. 7S-Torrey Stoughtenger[1]; 22. 63-Adam Roberts[26]; 23. 60-Jackson Gill[8]; 24. M1-Tim Murphy[28]; 25. 19X-Andy Noto[7]; 26. 24K-Nick Krause[27]; 27. 24-James Witko Jr[19]; 28. 18$-Sean Beardsley[3]; 29. 36-Ben Bushaw[17]
358 Modified Bonus - $300. $200. $100: Max Hill, Jeff Prentice, Andy Noto.
DOT Foods DIRTcar Sportsman – (25 Laps): : 1. 19C-Brandon Carvey[15]; 2. 6-Cody Manitta[3]; 3. R1-Riley Rogala[2]; 4. 0-Tony Finch II[13]; 5. 28-Alan Fink[14]; 6. 5-Amy Holland[9]; 7. 64-Tyler Corcoran[24]; 8. R19-Dale Caswell[7]; 9. 51-Richard Townsend Jr[10]; 10. 38-Zach Sobotka[11]; 11. 33-Richard Murtaugh[22]; 12. 31B-Ryan Dolbear[12]; 13. 80X-Mike Button[4]; 14. 28X-Stephen Marshall[17]; 15. 16-Earl Rudy[5]; 16. 42-Brian Murphy[18]; 17. 1J-John Wilber[21]; 18. 77L-Buddy Leathley[1]; 19. AONE-Bucky Hayes[16]; 20. 16X-Savannah Laflair[19]; 21. 29-Matt Caprara[8]; 22. 5D-Kyle Devendorf[6]; 23. (DNS) 30-Michael Root; 24. (DNS) 04X-Chris Crump
NAPA Know How Chase Elliott Award: Rich Townsend.
AmeriCU Credit Union Mod Lites – (20 Laps): 1. 06-Mike Mullen[8]; 2. 61-Hunter Lawton[3]; 3. 88-Zach Babcock[7]; 4. 16-Tucker Halliday[6]; 5. 99-Thomas Mackey[2]; 6. 155-Clayton Brewer III[10]; 7. 5K-Matt Kitts[4]; 8. 7J-Joel Moller[11]; 9. 19-Brad Harris[13]; 10. 13-Jammer Applegate II[1]; 11. 8BALL-Kelly Skinner[12]; 12. 11-Billy Applebee[5]; 13. 0-Mark Stevens[14]; 14. 22-Kyle Demo[9]
Mirabito Four-Cylinders – (15 Laps): 1. 5M-Damien Bechler[7]; 2. 16B-Chris Bonoffski[6]; 3. 27-Justin Pope[11]; 4. 2D-Jacob Dupra[10]; 5. 116-Jamie Radley[9]; 6. 67K-Clayton Koch[5]; 7. 26R-Ray Bechler[4]; 8. 360-Samuel Curcie[3]; 9. 29K-Kingston Sprague[2]; 10. (DNS) 113-Nate Powers; 11. (DNS) 27A-Alexandra Parker
---
Submitted By: David Medler
Back to News