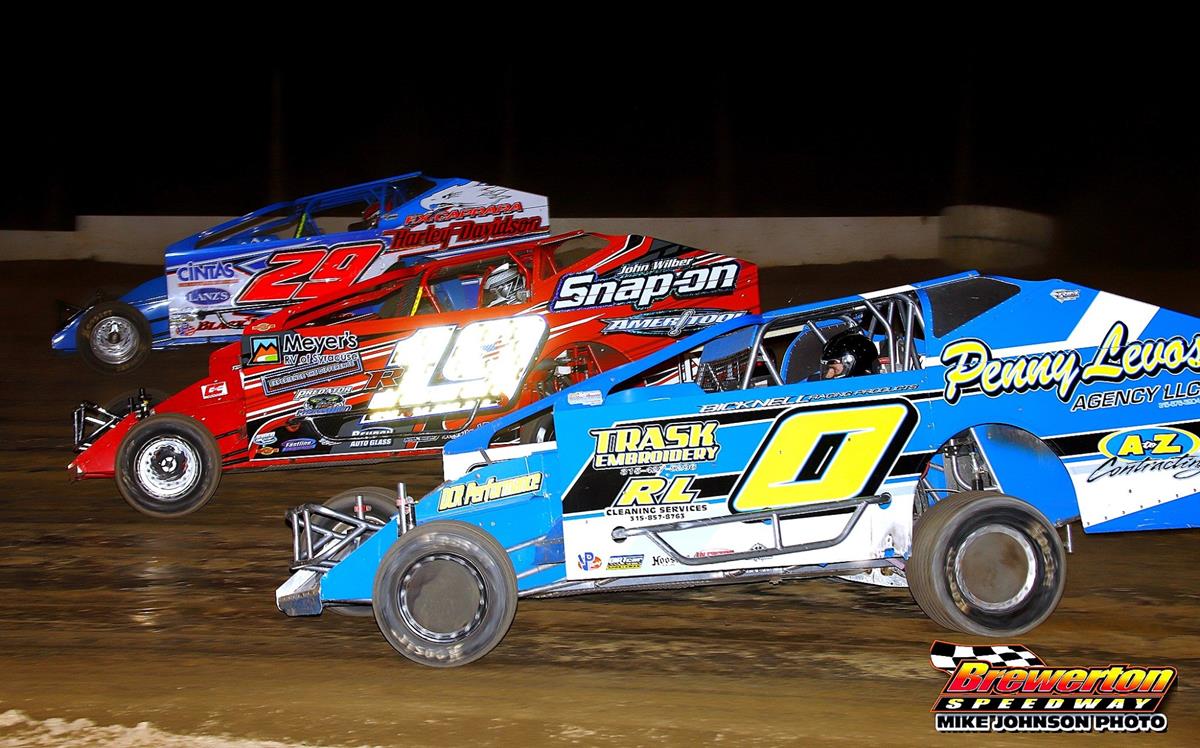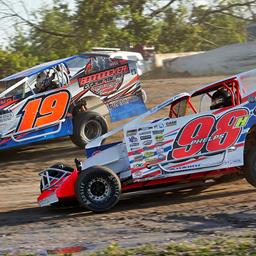 6/1/2022
Brewerton Speedway
---
Exciting Racing Returns to The Brewerton Speedway This Friday, June 3
BREWERTON, NY – (June 1, 2022) – After a week off because of weather the Brewerton Speedway returns to the fastest, family affordable fun in Central New York this Friday, June 3 presented by NAPA Auto Parts.
Racing on the 'D-Shaped Dirt Demon,' will be the Tracey Road Equipment DIRTcar Big Block Modifieds, DOT Foods DIRTcar Sportsman, AmeriCU Credit Union Mod Lites, and the Mirabito Four-Cylinders.
Have you always wanted to race on the Brewerton Speedway? Friday night is your chance in the One-on-One Spectator races. To participate you will need a street legal and insured car, a valid driver's license, and a helmet. After buying a general admission ticket, go to the track office in the midway to sign up.
Adult G/A is $15.00, 18 years old and younger is free. Pit admission (All Ages) is $35. Pits open at 4:30 pm. Grandstands at 5:30 pm. Hot laps are at 6:00 pm, with racing at 7:00 pm.
Camping is free. Please follow the camping sign located in the parking lot along the tree line to the designated camping area.
The Modified division has been as hot as the recent weather, with Tim Sears Jr. leading the way with two straight feature wins.
Not be outdone, the Sportsman and Mod Lites divisions racing has not had a repeat feature winner in 2022.
Top-Five Point standings coming into Friday, June 3.
Modifieds: Tim Sears Jr. (168). Chris Hile (160). Larry Wight (154). Jimmy Phelps (148). Tom Sears Jr. (146).
Sportsman: Zach Sobotka (142). Brandon Carvey (142). Amy Holland (140). Alan Fink (131). Dale Caswell (130).
Mod Lites: Mike Mullen (151). Kyle Demo (151). Clayton Brewer (147). Joel Moller (137). Tucker Halliday (136).
The Brewerton Speedway thanks longtime marketing partner and sponsor of the weekly Chase Elliott award plus June 3 event sponsor NAPA Auto Parts.
Since 1936, NAPA continues to serve auto service professionals, do-it-yourselfer and everyday drivers with quality parts and supplies to keep cars, trucks and equipment performing safely and efficiently.
In the U.S., NAPA now includes over sixty distribution centers, 15,000 NAPA Auto Care Centers and more than 6,000 independently owned and company-owned stores. NAPA carries an extensive inventory of more than 400,000 parts for automotive and industrial applications.
To find a NAPA near you, please visit www.napaonline.com and also like the Syracuse area NAPA Facebook page at www.facebook.com/NAPA.NewYork.Pennsylvania . Remember to support those who support racing.
Any questions you might have and for marketing opportunities contact Cory Reed at (315) 668-6906 or cory@brewertonspeedway.com. For all the latest news go to www.brewertonspeedway.com and like the speedway social media pages.
---
Submitted By: David Medler
Back to News