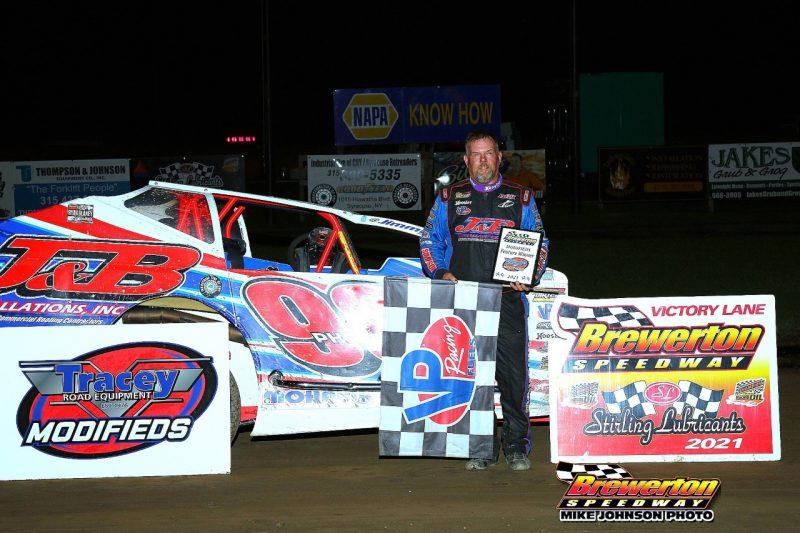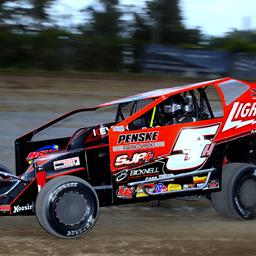 8/21/2021
Brewerton Speedway
---
Jimmy Phelps Brewerton Speedway Modified Win Keeps Him in The Hunt for The Championship: Top-Three in Sportsman Separated by Four Points
Dave Medler 
 BREWERTON, NY – The month of August has seen Jimmy Phelps and Larry Wight locked in tight points battle for the 2021 Tracey Road Equipment DIRTcar Big Block Modified Track Championship.
Consistency has been the key all season with neither driver going to victory lane until Larry Wight picked up the win on August 6th.  Jimmy Phelps came into the night just 16 behind Wight with three-point races left in the 2021 season.
Friday night Phelps was a man on a mission. After starting 10th Phelps would take the lead on lap 10 in the 35-lap feature and would never look back for his first win of the season. Larry Wight started 15th and finished fourth. Heading into Friday, August 20th Larry Wight will be holding a very slim six-point advantage over Jimmy Phelps.
Not to be outdone, the DOT Foods DIRTcar Sportsman points race is a battle royal at the front going into August 27th.  Zach Sobotka, Alan Fink and Amy Holland are separated by four points.
Other winners on Mirabito Energy Products night were Richard Murtaugh, first career win at the speedway (Sportsman) Justin Williams (Mod Lites) Damien Bechler (4-Cylinders).
Chad Phelps and Tim Harris brought the 25 car Modified 35-lap feature to the green with Chad Phelps grabbing the early lead.
Yellows on lap 3 and lap 6 kept the racing throughout the field two and three wide with Phelps still showing the way out front.
Jimmy Phelps who started 10th took advantage of the lap 6 yellow as he was able go from fourth to second on the restart as he then set his sights on Chad Phelps.
After a side-by-side battle with Chad Phelps, Jimmy Phelps took the lead by inches at the flag stand on lap 10. Tyler Trump, Jeff Taylor, and Joe August were in a tight battle for third through fifth.
With 20 laps showing on the scoring tower Phelps was on rails building an almost 3 second lead as Chad Phelps, Jeff Taylor, Tom Sears Jr., and Trump raced for top-five spots.
Phelps was still in his own zip code with 10 laps to go, putting cars down a lap as he was heading to win number one of the season. Chad Phelps, Taylor, Sears were locked in a close battle with Tim Sears Jr.
Two late yellows gave the field a chance to steal away the win from Jimmy Phelps. Phelps got great restarts both times and was never seriously challenged as he cruised under the checkers over one second ahead of Tom Sears Jr. Chad Phelps, Larry Wight, and Tim Sears Jr. rounded out the top-five.
Richard Murtaugh showed the way out front in the early going of the 25-lap Sportsman feature with Jeff Prentice, Tyler Murray, Quinn Wallis and Max Hill making it a close five-way race at the front.
Murtaugh would open a lead of six car lengths on lap 10 with Prentice, Murray, Wallis, Hill, and title contender Alan Fink in a tight pack for second through sixth.
Yellows on lap 13 and lap 18 slowed the action and gave the top-five a shot at Murtaugh. Richard Murtaugh hit his marks the rest of the distance going under the checkers one second ahead of Alan Fink for his first ever win at the Brewerton Speedway in the Sportsman division. Chris Mackey, Jeff Prentice, and Zach Sobotka finished third through fifth.
Chris Mackey's third place finish is on hold until further tech.
Tucker Halliday and Tom Mackey would trade the lead back and forth in a side-by-side battle in the early going of the 20-lap Mod Lite Feature with racing behind them two and three wide.
As the race went on Justin Williams made a late charge as he has done so many times this season to grab his seventh win of the year by 3.512 seconds ahead of Mike Mullen. Tucker Halliday, Joe Garafolo, and Hunter Lawton finished third through fifth.
In the 15-lap 4-Cylinder feature, Ray Bechler would lead the opening 6 laps when his son Damien Bechler used a car at the tail of the field as a pick driving into the lead. Once out-front Damien Bechler drove away to his second win of the season. Ray Bechler, Chuck Powelczyk, Quinn Wallis, and Dave Mills finished second through fifth.
This Friday, August 27 will see the Modifieds, and Sportsman continue their intense battle for the championships on the second to last night of points on John Wilber Snap-On Tools night. The Mod Lites & 4-Cylinders will be in action with the 4-Cylinders crowning their 2021 Track Champion.
Adult grandstand admission is $15 with everyone 18 years old and younger admitted free. Pit admission is $35. Gates will open at 5:30 pm with racing at 7:30 pm.
Any questions you might have and for marketing opportunities contact Cory Reed at (315) 668-6906 or cory@brewertonspeedway.com. For all the latest go to www.brewertonspeedway.com and like the speedway social media pages.
Mirabito night At the Speedway August 20 Results
(Tracey Road Equipment DIRTcar Big Block Modifieds 35 Laps) – JIMMY PHELPS, Tom Sears Jr., Chad Phelps, Larry Wight, Tim Sears Jr., Michael Maresca, Ron Davis III, Billy Decker, Jeff Taylor, Pat Ward, Chris Hile, Joe August, Ben Bushaw, Jackson Gill, Tyler Trump, Roy Bresnahan, Jim Witko, Gil Tegg, Sean Beardsley, Tim Harris, Nick Krause, Kevin Root, Andrew Ferguson, Andy Noto, Tom Jock.
(DIRTcar 358 Modified Bonus $300. $200. $100) – Ben Bushaw, Gil Tegg, Sean Beardsley.
(DOT Foods DIRTcar Sportsman 25 Laps Pending Tech) – RICHARD MURTAUGH, Alan Fink, Chris Mackey, Jeff Prentice, Zach Sobotka, Amy Holland, Tyler Murray, Quinn Wallis, Dale Caswell, Brandon Carvey, JJ Courcy, Ben Wheeler, Mike Button, Dorian Wahdan, Dalton Rombough, Matt Caprara, Steven Marshall, Teddy Clayton, Tony Steiner, Earl Rudy, Dan Keyes, Robert Gage, Max Hill, Mike Root.
(NAPA Auto Parts Chase Elliott Award) – Dale Caswell
(BNEL Excavating $25 Bonus) – Matt Caprara
(Mike Payne & MP Delivery 7th Place Bonus) – Tyler Murray
(Sportsman Non-Qualifier 15 Laps) – CHRIS BONOFFSKI, Matt Kitts, Corey Castell, Jake Petit, Bentley Gray, Emmett Waldron, Ray Reynolds, Savannah Laflair, Matt Richardson, Riley Rogala, DNS, Dustin Bradley, Buckey Hayes, Tayvyn Marino, Fire Swamp, Brent Joy, Austin Murphy.
(AmeriCU Credit Union Mod Lites 25 Laps) – JUSTIN WILLIAMS, Mike Mullen, Tucker Halliday, Joe Garafolo, Hunter Lawton, Brad Harris, Clayton Brewer, Harley Brown, Roger Olschewske, Tristan Dibble, Scott Sharpe, Sam Usborne, Jack Lyon, Wayne Dibble, Issiah Lyon, Kelly Skinner, Tom Mackey.
(Fleet Repairs 4-Cylinders 15 Laps) – DAMIEN BECHLER, Ray Bechler, Chuck Powelczyk, Quinn Wallis, Dave Mills, Jerry Herbert, David DeNova, Clayton Koch, Sam Curcie, Kingston Sprague, Sophia DeNova, Kiki VanEpps, Eric Rowley, Jack Taskey, DNS – Craig Dingy.
Back to News