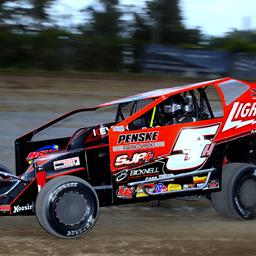 1/24/2020
Brewerton Speedway
---
AmeriCU Credit Union Signs on As the Title Sponsor of The Brewerton & Fulton Speedways Mod Lite Division
BALDWINSVILLE, NY – Management of the Brewerton is proud to announce that AmeriCU Credit Union has signed on as the title sponsor of the popular STARS Mod Lite division at the Brewerton Speedway for 2020 and 2021.
"We are excited to welcome AmeriCU who has such a large and positive presence in the communities they serve,� said Cory Reed, general manager of the Brewerton Speedway.
The AmeriCU Mod Lite class remains a fixture at Brewerton Speedway, competing weekly from the season opener on May 8 throughout the season. The class makes a visit to Fulton Speedway on June 13 for a regional tour event before culminating their 2020 Central New York campaign with a STARS National event on Friday, October 2 as part of the 35th annual Outlaw 200 Weekend.
About AmeriCU Credit Union:
As a credit union, they are a not-for-profit financial institution owned by members. They provide you with all the products and services you need – often with low or no fees, and better rates. AmeriCU has been serving the local community for over 65 years and, in that time, have grown to more than 130,000 members, 19 locations, and $1.5 billion in assets!
Open an AmeriCU account with just $5 if you live, work, worship, or attend school in Central or Northern New York, or you or a member of your family is on active-duty, in the reserves, or a veteran of the U.S. military. Open an account and join now.
Nationally Recognized for Excellence.. AmeriCU is proud to have been chosen as one of the best credit unions in New York State by Forbes Magazine. Their second annual list of America's Best Credit Unions in Each State ranks AmeriCU fourth overall in New York State. AmeriCU is the only credit union in Central and Upstate New York to have been included in the esteemed list. To see everything, they have to offer for all your financial needs, please log onto www.americu.org  or call them toll free at 800.388.2000. As always, remember to support those who support racing.
The annual Winter Blast will be on Saturday, February 15th at a brand-new location at the Phoenix Sports Restaurant less than 15 min. south of the Fulton Speedway located at 228 Huntley Rd. in Phoenix. Festivities will begin at 7:00 pm.
The evening is casual dress and free to attend for race teams and fans with a chance to hang out with friends who you haven't seen since the end of the 2019 season. Driver point fund and trophies will be dispersed. Door prizes, announcements plus showing of the final night of the DIRTcar Nationals featuring the Modified Super DIRTcar Series & the World of Outlaws Late Model Series. To check out their extensive menu visit www.phoenixsportsrestaurant.com  and like their Facebook page.
Just a few months remain until the 2020 season. For marketing opportunities, please contact Cory Reed at the winter office number (315) 638-4056 or cory@brewertonspeedway.com. For the latest news go to www.brewertonspeedway.com – www.fultonspeedway.com , or the speedway Facebook and Twitter pages.
Back to News