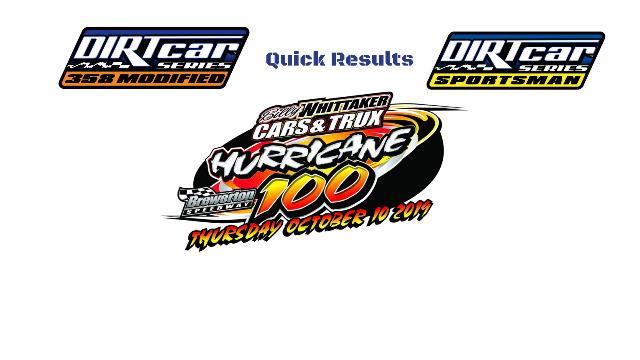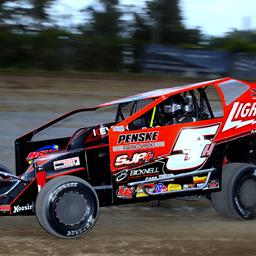 10/11/2019
Brewerton Speedway
---
Hurricane 100 Quick Results
27th Annual Billy Whittaker Cars & Trux Hurricane 100 & Hurricane 30
 (DIRTcar 358 Modified Series 100 Laps) – MAT WILLIAMSON, Erick Rudolph, Michael Maresca, Billy Decker, Mike Mahaney, Larry Wight, Dave Marcuccilli, Glenn Forward, Ron Davis III, Tyler Trump, Kyle Dingwall, David Schilling, Tim Sears Jr., Todd Root, Phil Vigneri, Chad Brachmann, Ryan Arbuthnot, Ryan Bartlett, Lance Willix, Gary Lindberg, Yan Bussiere, Kyle Inman, Greg Martin, Corey Wheeler.
 (Ryan Baye Halfway Leader Bonus $500) – Erick Rudolph
 (DIRTcar Sportsman Championship Series 30 Laps) – KYLE INMAN, Kevin Root, Adam Pierson, Alan Fink,Mark Yorker, Zach Sobotka, Brad Rouse, Matt Janczuk, Jeff Taylor, Jackson Gill, Tyler Corcoran, Bob Henry Jr., Jack Meeks, Jim Spano, Jeff Prentice, Earl Rudy, Chris Mackey, AJ Miller, AJ Custodi, Tyler Murray, Corey Barker, Jessica Power, Bailey Groves, Rocky Grosso, Will Shields, Sean Beardsley, Andrew Smith, Cedric Gauvreau, Dustin Hutton, Shane Percore.
 Thank you to the following who donated to the $500 halfway leader bonus in memory of Ryan Baye – Hanas Enterprises, Central Square, NY – Rosie's Corner, Brewerton, NY – Central Square Redmen class of 1995.
Back to News