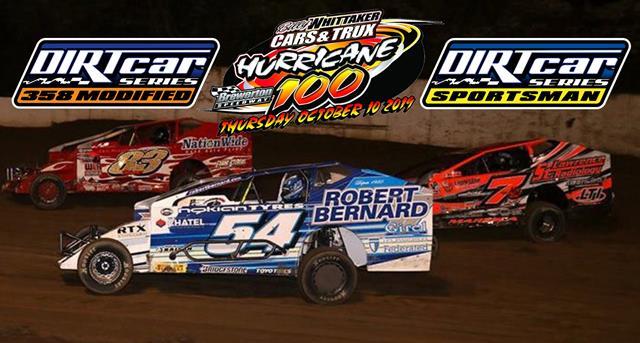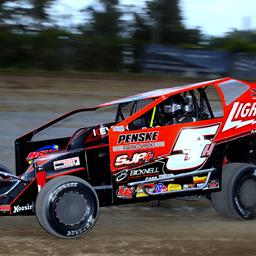 10/2/2019
Brewerton Speedway
---
DIRTcar 358 Modified Series set to Invade Brewerton Speedway Thursday, October 10 During Super DIRT Week XLVIII
BREWERTON, NY – All roads Thursday night, October 10th, will lead from Super DIRT Week XLVIII at the Oswego Speedway, to the Brewerton Speedway for one of the most popular race traditions of the week with fans and race teams.
On the exciting race card will be the DIRTcar 358 Modified Series 27th Annual Hurricane 100 presented by major speedway marketing partner, Billy Whittaker Cars & Trux.
Adding to the racing thrills, the DIRTcar Sportsman Championship Series will do battle on the 'D-Shaped Dirt Demon' in the Hurricane 30.
With Super DIRT Week, just a short distance away at Oswego Speedway, the Brewerton race will attract drivers from all over the Northeast and Canada in clay slinging, side-by-side racing excitement for all in attendance.
In the 26 previous 'Hurricane 100′ events, some of the biggest names in Modified racing have graced victory lane after doing battle on the 'Dirt shaped Dirt Demon.' Thursday's race should be no different putting on a high-speed show for the fans.
The 2018 event, Larry Wight defended home turf holding off Quebec's Steve Bernier, fan favorite Danny Johnson, Quebec's Michael Parent and Wight's teammate Pat Ward.
The DIRTcar Sportsman Championship Series put on a battle royal from the drop of the green to the checkers. Dave Marcuccilli grabbed the victory over teenager Jackson Gill, Bob Henry Jr., track champion Kevin Root and Zach Sobotka.
Event information:
Reserved Seats – Top Three Rows Across All Sections – $33
Adult General Admission – $28
Youth – 6-18 Years Old – $5
5 Years and younger – Free
Pit Passes – $40
Ticket Booth Opens for Sales & Will-Call – noon
Pits Open – 4 p.m.
Grandstands Open – 4:30 p.m.
Hot Laps – 6:30 p.m.
Time Trials – 6:45 p.m.
First Heat – 7:30 p.m.
Camping is allowed only on the perimeter against the tree line of the newly renovated and enlarged parking lot.
The Speedway would like to thank Modified racer Billy Whittaker and his company Billy Whittaker Cars & Trux for being a major marketing partner at the Brewerton Speedway and the sister track, the Fulton Speedway.
Billy Whittaker Cars & Trux is located just minutes north of the Brewerton Speedway at 309 – Route 11 in Central Square, NY where all their Cars, Trucks and SUVs are 'Good to Go.'
Check out their website  www.trophyauto.com  for a selection of over 250 vehicles.  Looking for a nice car for $30, $40 or $50 dollars a week? They have them.   Or how about Billy's Showcase Cars, year-old, late model, low mileage cars for only $60 a week.   Check out their like-new TRUX for only 70 bucks a week. They are also an official NAPA Auto Care Center, serving all of Central New York, Syracuse and Surrounding Areas.  Need financing? Click on their 40 second finance application right now. Billy Whittaker Cars & Trux, nice cars and trux that are Good to Go! To see the great inventory they have to offer click on (315) 668-CARS .  As always, support those who support racing.
The Wights and the entire staff of the speedway would like to thank all the fans, marketing partners and race teams for a successful 2019 season.
Any off questions you might have and for 2020 marketing opportunities please contact Cory Reed at (315) 668- 6906 or cory@brewertonspeedway.com.
Back to News