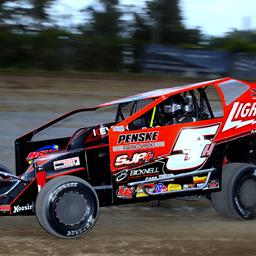 9/15/2019
Brewerton Speedway
---
Williamson holds off Chris Hile and Larry Wight to Win the Duel at the Demon 100
Super DIRTcar Series PR
BREWERTON, NY - September 13, 2019 - Mat Williamson, from St. Catherines, Ontario, can add Demon Slayer to his list of credentials as he won this year's Duel at the Demon 100 at Brewerton Speedway. Williamson finally put it all together to park the No. 88 Buzz Chew Big Block Modified in Victory Lane in 2019.
Brewerton Speedway regular Chris Hile picked up his third career top five in Series competition while battling some of the best drivers in the business. Another home track hero and Series star Larry Wight worked his No. 99L around the top and bottom of the track to make a run for the lead but was forced to settle for third.
Williamson was locked in battle with Ryan Godown who challenged him for the lead several times in the early going. Then late in the race it was Chris Hile who wanted to make a run in the No. 88.
"We were starting to fade at the end. I didn't know what to do. This field of Modified drivers is the best in the Northeast,� said Williamson.
This was the first Series win for Williamson and his first in the Buzz Chew No. 88. He was ecstatic to pick up the checkered flag for his car owner.
"When you are out there leading you are trying not to disappoint the guys that are sitting in the grandstands. These guys worked their butts off all night. To get a win here for Buzz and his whole family is awesome,� Williamson said with a grin.
Chris Hile added another race to his career top five list on the Series trail.
If there had been a few more laps, we may have been talking about his first Series win. "I think if this race was 105 or 110 laps, it would have been real nice. I'm sure my buddy Mat is happy with it being 100 laps,� Hile quipped.
The track appeared to take most divers by surprise with how slick it became throughout the 100-lap Feature.
"This is a Brewerton surface that we remember from a long time back,� said Hile in Victory Lane.
"These last couple of months it's been pretty fast here. Racing on a slippery track was our bread and butter. We were good but ran out of time at the end.�
Hile's goal was to go hard in the late-going.
"We tried to conserve early and it's easy to burn your stuff up. We tried to just float around and then in that last 20 laps we a really gave it. If we had caught lapped traffic a couple of laps earlier, I think we would have had a shot at him [Williamson].�
Lightning Larry Wight brought the No. 99L home third but felt he left something on the table.
"We missed the set up a little bit. This is the slickest Brewerton's been in a couple of months and it kind of snuck up on us a little bit,� said Wight.
Like Hile, Wight worked to preserve his equipment for the end.
"I spent the first three-quarters of the race trying to save my right rear, hoping that those guys pounding the top would use up theirs. We finally figured out you can win more races if you have something to finish with,� Wight said with a grin.
Queensland, Australia driver Batman Peter Britten had a difficult start to the night. After failing to qualify out of the Heat Race or Last Chance Showdown, Britten was forced to rely on a provisional to start the 100-lap Feature.
The Northeast Custom Flatbed No. 21A started all the way back in position 25 out of the 28 starting drivers. Batman wasted no time swinging into action and began passing cars left and right. Before long Britten found himself in the top ten and walked away with a seventh-place finish and the KSE Hard Charger Award.
The Gypsum Racing driver Billy Decker had tremendous speed right off the trailer. Decker took the No. 91 and posted a quick enough time in Time Trials to take home the Billy Whittaker Cars Fast-Time Award. Unfortunately, Decker didn't draw as well as he drove and drew the number twelve. Although Decker had to start twelfth, he took home a free Hoosier Racing Tire.
Next, the Series heads North to Mohawk Int'l Raceway for a $10,000-to-win NAPA Super DIRT Week XLVIII guaranteed start.
FEATURE (100 Laps) 1. 88-Mat Williamson [4][$7,500]; 2. 5H-Chris Hile [7][$4,000]; 3. 99L-Larry Wight [2][$2,500]; 4. 9S-Matt Sheppard [11][$1,800]; 5. 25-Erick Rudolph [18][$1,600]; 6. 83X-Tim Sears [3][$1,400]; 7. 21A-Peter Britten [25][$1,300]; 8. 27J-Danny Johnson [19][$1,200]; 9. 91-Billy Decker [12][$1,100]; 10. 26-Ryan Godown [5][$1,000]; 11. 6H-Max McLaughlin [22][$800]; 12. 14J-Alan Johnson [20][$700]; 13. X-Chad Phelps [15][$600]; 14. 42P-Pat Ward [24][$575]; 15. 98H-Jimmy Phelps [16][$550]; 16. 9X-Tyler Trump [6][$525]; 17. 2L-Jack Lehner [17][$500]; 18. 109-Billy Whittaker [8][$500]; 19. 43-Keith Flach [1][$500]; 20. 111-Demetrios Drellos [21][$500]; 21. 24-Jimmy Witko [13][$500]; 22. 83-Brian Swartzlander [14][$500]; 23. R2-Rusty Smith [26][$500]; 24. 96S-Paul St.Sauveur [27][$]; 25. 62s-Tom Sears [10][$500]; 26. 17-Marcus Dinkins [28][$]; 27. 44-Philip Vigneri [23][$500]; 28. 11R-Rob Bellinger [9][$500]
KSE Hard Charger Award: 21A-Peter Britten[+18]
Contingency Sponsor Awards:
VP Race Fuels $50 – Danny Johnson
Billy Whittaker Cars & Trux $100 – Billy Decker
Cometic Gaskets $50 – Alan Johnson
Comp Cams $50 – Max McLaughlin
Fox Racing Shox $50 – Erick Rudolph
JE Pistons $50 – Erick Rudolph
MSD Ignition $50 – Chris Hile
MSD Ignition $25 - Marcus Dinkins
NGK Spark Plugs $50 – Matt Sheppard
DART $50 –Billy Decker
Drydene $50 – Peter Britten
ASI Racewear $50 – Peter Britten
Product Prizes
Hoosier Racing Tire (1 Free) – Billy Decker
Bicknell Racing Products – Mat Williamson
Comp Cams – Chris Hile
JE Pistons – Jack Lehner/Demetrios Drellos
KSE Racing Products – Danny Johnson
Wrisco Aluminum – Mat Williamson
NGK Spark Plugs – Jack Lehner
DART – Chris Hile/Keith Flach
Drydene - Chris Hile
The
Super DIRTcar Series
 is brought to fans by many important sponsors and partners, including: Hoosier Racing Tire (Official Tire), VP Racing Fuels (Official Racing Fuel), Chevy Performance Parts, iRacing (Official Online Racing Game) and NAPA Auto Parts. Contingency sponsors include: ASI Race Wear, Bicknell Racing Products, Billy Whittaker Cars & Trux, Dig Safely, Cometic Gasket, COMP Cams,DART,Fox Shox, Intercomp, JE Pistons, KSE Racing Products,MSD, and Wrisco (Exclusive Racing Aluminum); along with manufacturer sponsors, including: Beyea Headers,FireAde,Racing Electronics and TNT Rescue.
Back to News