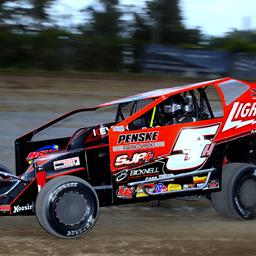 9/14/2019
Brewerton Speedway
---
Super DIRTcar Series Duel At The Demon Quick Results
 Universal Metal Works – September 13 Super DIRTcar Series Duel at the Demon Results
 (Modified Super DIRTcar Series Duel at the Demon 100 Laps) – MAT WILLIAMSON, Chris Hile, Larry Wight, Matt Sheppard, Erick Rudolph, Tim Sears Jr., Peter Britten, Danny Johnson, Billy Decker, Ryan Godown, Max McLaughlin, Alan Johnson, Chad Phelps, Pat Ward, Jimmy Phelps, Tyler Trump, Jack Lehner, Billy Whittaker, Keith Flach, Demetrios Drellos, Jim Witko Jr., Brian Swartzlander, Rusty Smith, Paul St. Sauveur, Tom Sears Jr., Marcus Dinkins, Phil Vigneri III, Rob Bellinger.
 35 Cars Entered
 (DIRTcar Sportsman Championship Series Duel at the Demon 50 Laps) – KYLE INMAN, Kevin Root, Jackson Gill, Matt Janczuk, Tyler Corcoran, AJ Miller, Brandon Carvey, Mark Yorker, Jessica Power, Zach Sobotka, Austin Germinio, Jeff Prentice, Casey Williams, Jeff Taylor, Ryan Scott, Chris Mackey, Tyler Murray, Jim Spano, Jarrett Herbison, Addison Bowman, Ryan Dolbear, Bailey Groves, Amy Holland, Jack Meeks, Corey Barker, Alan Fink, Rich Riggs Jr., Willy Decker Jr., Tom Juno, Bob Henry Jr.,
 Guaranteed Starter Outlaw 200 Weekend Industrial Tire of CNY Sportsman Shootout - Kyle Inman
 47 Cars Entered
 13th Hour Rising Haunted Hayride $500 Top-Three Heat Race Bonuses: 1st $50 - 2nd $30 - 3rd $20
(Heat 1) – Kevin Root, Corey Barker, Zach Sobotka.
(Heat 2) – Tom Juno, Casey Williams, AJ Miller.
(Heat 3) – Jack Meeks, Bob Henry Jr., Willy Decker Jr.
(Heat 4) – Matt Janczuk, Kyle Inman, Jackson Gill.
(Heat 5) – Alan Fink, Jim Spano, Amy Holland.
 Final Event of 2019: Super DIRT Week XLVIII Special - Thursday, October 10 - Billy Whittaker Cars & Trux presents DIRTcar 358 Modified Series 27th Hurricane 100 plus DIRTcar Sportsman Championship Series Hurricane 30.
Back to News