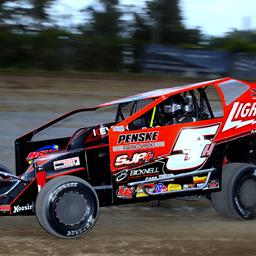 9/8/2019
Brewerton Speedway
---
Who Will Be Lucky At The Brewerton Speedway Friday, September 13 Modified Super DIRTcar Series And DIRTcar Sportsman Championship Series
BREWERTON, NY – The 'D-Shaped Dirt Demon' will come back to life on its favorite day on the calendar, Friday the 13th  with a full moon in one of the 'Must See' events on the racing calendar.
The Modified Super DIRTcar Series will invade the Brewerton Speedway this Friday, September 13th to do battle in the 5th Annual 'Duel at the Demon' 100 plus the DIRTcar Sportsman Championship Series will slug it out in the 'Duel at the Demon' 50.
Brewerton Speedway regulars led by track champion Larry Wight coming off his series win at Granby Speedway in Quebec last Friday, plus Jimmy Phelps, Billy Decker, Tim Sears Jr., Tom Sears Jr., Chris Hile, Pat Ward, Chad Phelps, Tyler Trump, Andrew Ferguson and others will be looking to keep the Demon cash at home.
Series invaders will be led by points leader Matt Sheppard plus Erick Rudolph, Mat Williamson, Peter Britten, Ryan Godown, Danny Johnson, Mike Mahaney, Demetrios Drellos, Jack Lehner and other outsiders who might sign in pit side to do battle on one of the toughest speedways on the tour.
Not to be outdone, the DIRTcar Sportsman Championship Series will battle it out for 50-laps on a track that saw 16 different feature winners in 2019.
The Sportsman feature winner will receive a coveted guaranteed spot in the one of the most prestigious Sportsman races in the Northeast , the Industrial Tire Sportsman Shootout that is part of the 34th Annual Outlaw 200 Weekend on Friday & Saturday October 4-5.
Adult grandstand admission is $30 with everyone 18 years old and under $5. Pit admission is $40. Grandstands will open at 5:30 pm with racing at 7:30 pm.
13th Hour Rising Haunted Hay Ride located at 84 Merrit Rd. in Fulton, NY will have a display in the midway and will handing out $500 in Sportsman heat race bonuses.
Camping is free and is allowed only on the perimeter of the newly renovated parking lot against the tree line.
Race Day Competitor Notes:
3:30 pm – Pits Open
3:45 pm – Inspection & Draw Begins
5:15 pm – Draw Concludes
5:30 pm – Drivers Meeting
6:20 pm – Hot Laps
6:45 pm – Group Time Trials
7:30 pm – Qualifying Heats
The Brewerton Speedway would like to welcome back event sponsor Universal Metal Works located at 159 Hubbard St., Fulton, NY to the "D-Shaped Dirt Demon.�
At Universal Metal Works, a leading metal fabrication facility, experience is their difference. Universal Metal Works presents knowledgeable and trained staff with over 300 years of combined fabrication experience. Universal Metal Works specializes in design and engineering, assembly, complete pre-assembly, and has certified AWS D1-1 Welders. At Universal Metal Works we stand behind Quality, Strength, and Reliability to get any job done with craftsmanship you can trust. To see all the services they have to offer, please visit their website at www.universalmw.com or call (315) 598-7607. You can also find them on Facebook by putting in Universal Metal Works in the search box.
Any questions you might have and for 2020 marketing opportunities please contact Cory Reed (315) 668-6906 or cory@brewertonspeedway.com.
For all the latest news go to www.brewertonspeedway.com and like the speedway Facebook & Twitter pages.
Back to News