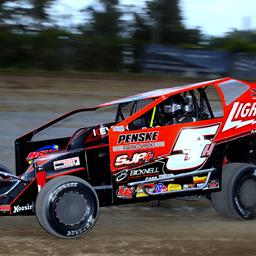 9/4/2019
Brewerton Speedway
---
Big Block Modifieds continue as Brewerton Speedway Headliner; Late Models remain a Fulton Speedway staple in 2020
Baldwinsville, NY – As the successful 2019 racing season is now reaching its conclusion with season ending big events, management of the Brewerton Speedway and Fulton Speedway are pleased to announce the 2020 weekly divisions to give competitors a jump on their plans for the next racing season.
Brewerton Speedway will again host the Tracey Road Equipment DIRTcar Big Block Modifieds as the headline division in 2020. Staple support classes, Dot Foods DIRTcar Sportsman, US Air Force STARS Mod Lites and the Fleet Repairs 4-Cylinders will all return to the 'D-Shaped Dirt Demon' as weekly fixtures.
"Brewerton has long been known as a hotbed for Big Block Modified racing and we will continue that next year and for years to come,� said General Manager, Cory Reed.
Management looks to continue the meteoric growth of the Tracey Road Equipment DIRTcar 358-Modifieds as they will again anchor Fulton's weekly program. Continuing as signature support classes at Fulton Speedway will be Dot Foods DIRTcar Sportsman, Billy Whittaker Cars & Trux RUSH Late Models and the E&V Energy Novice Sportsman
."We are very pleased with the growth of the Tracey Road Equipment DIRTcar 358-Modifieds during their second season back at the Fulton Speedway and expect that growth to continue,� said Reed. "Across our two-track platform we offer a diverse mix of race divisions and are happy to continue with all of them into 2020 and beyond.�
The Wights' and the entire staff of both speedways would like to thank all the fans, race teams and marketing partners for a fun and successful season and look forward to an exciting 2020 campaign, but not before hosting several season-ending events:
Brewerton Speedway:
Friday, September 13 - Universal Metal Works presents the Duel at the Demon 100 for the Modified Super DIRTcar Series plus the Duel at the Demon 50 for DIRTcar Sportsman Championship Series
Thursday, October 10 - Super DIRT Week XLVIII Special - Billy Whittaker Cars & Trux presents the  27th Annual Hurricane 100 for the DIRTcar 358 Modified Series plus the DIRTcar Sportsman Championship Series 30
Fulton Speedway:
One of the crown Jewels in Northeast Racing - 34th Annual Outlaw 200 Weekend
 Friday, October 4:
Northeast Late Model Alliance Outlaw 50
Industrial Tire of CNY DIRTcar Sportsman Shootout Heats and Consis
Modified 15-lap Outlaw Qualifiers
US Air Force Mod Lite Outlaw Championship
Fleet Repairs 4-Cylinder Open
E & V Energy Novice Sportsman
Saturday, October 5:
Modified Outlaw 200
Industrial Tire of CNY Sportsman Shootout 50
Saturday, October 12:Â  Super DIRTweek Special XLVIII
Super DIRT Week Big Block Modified Wildcard 50 Win and You're In
Super DIRT Week 360 Sprint Car Special
Any questions you might have and for 2020 marketing opportunities, contact Cory Reed at (315) 638-4056 or cory@brewertonspeedway.com - cory@fultonspeedway.com.
For all the latest news go to www.brewertonspeedway.com - www.fultonspeedway.com and like both speedways Facebook & Twitter pages.
Back to News