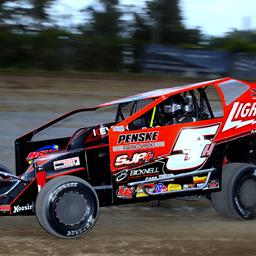 8/31/2019
Brewerton Speedway
---
Larry Wight Uses Feature Win To Propel Him To Brewerton Speedway Modified Track Championship
BREWERTON, NY – Drama and tension highlighted Friday racing at the Brewerton Speedway as track championships came down to the final points night.
In the Tracey Road Equipment DIRTcar Modifeds, the championship came down to Tim Sears Jr. and Larry Wight who were both going for their first track titles at the 'D-Shaped Dirt Demon'.
In the 35-lap feature Larry Wight blasted into the lead on lap 3 and would out run Tom Sears Jr. to the checkers for his second feature win of the year and the track championship, and with-it momentum heading into season ending extra distance high paying events.
Tim Sears Jr. who came into the night with a slim points lead would see his run at the tittle end on lap 10 when he suddenly slowed and was pushed to the pits with what later reported at ignition problems
Other winners on 87 Speed Championship night were, Zach Sobotka (DOT Foods DIRTcar Sportsman) Clayton Brewer III (U.S Air Force Mod Lites).
The Lucas Oil Empire Super Sprints ran a pair of 25-lap features that would see Jonathan Preston sweep the night.
In the 35-lap Modified feature, Roy Bresnahan would lead the opening 2 laps until Larry Wight powered his way into the lead and put distance between himself and the rest of the top-five.
On lap 10 Tim Sears Jr. saw his title hopes vanish as he suddenly slowed to a stop on the back straight bringing out the yellow.
When his car got pushed back to his pits for courtesy laps, his team, LJL Gypsum Racing and other team members thrashed under the hood trying to get him back in the race, but to no avail when the race went back to green.
With 15 laps showing on the scoring tower Wight led Tom Sears Jr. by a few car lengths in a two-car breakaway at the front of the field with Tyler Trump, Bresnahan, Jimmy Phelps, Chad Phelps and Billy Decker under a blanket battling for third through seventh.
When the field was given the 10 laps to go sign, Wight held an almost full straight lead leaving Sears, Phelps, Decker and Trump to race for top-five positions.
The rest of the distance Sears slowly cut into Wight's lead, but to no avail as Wight was a man on mission grabbing the victory and his first Brewerton Speedway Track Championship. Jimmy Phelps, Billy Decker and Chris Hile finished third through fifth.
There was also drama and intensity in the 25-lap Sportsman feature as three drivers were in the hunt for the championship between defending track champion and points leader Kevin Root, Chris Mackey and Alan Fink.
John Stickler would lead would lead early laps until Zach Sobotka would jump to the high side and drive by Strickler exiting turn four on lap 4.
By lap 10 Sobotka and Quinn Wallis were in a two-car breakaway at the front of the field with Brandon Carvey and title contenders Mackey and Fink in a close battle in the top-five.
Outside the top-five Root was not only battling for a track championship, he was also doing it with a front flat tire making his car a handful to drive as he tried to keep Mackey and Fink in sight.
With 10 laps remaining Sobotka was still out front by 10 car lengths, while behind him Mackey and Fink were bumper to bumper in second and third keeping their championship hopes alive.
Root was undaunted by his flat tire as he was driving every lap hard, as points were being tabulated every lap by the three championship contenders knowing on any lap Roots tire could fly off the rim ending his title run.
Over the final laps Zach Sobotka was the class of the field picking up the win. Alan Fink, Chris Mackey, Quinn Wallis and Jim Spano finished second through fifth.
Kevin Root finished a hard earned seventh and with it he won the track championship by 5 points over Alan Fink and by 7 points over Chris Mackey in one of the tightest points championships since the Sportsman became a weekly division.
In the caution free 20-lap Mod Lite feature there was no stopping Clayton Brewer III who totally dominated. Brewer would take the lead on lap 2 from Justin Williams and would win by almost 5 seconds over Mike Mullen. Kyle Demo, Casey Sykes and Justin Williams finished third through fifth.
Casey Sykes over the season had five feature wins, twelve top-five's and fourteen top-tens in fourteen starts for his first Mod Lite track championship.
Jonathan Preston was the class of the field in a pair of Lucas Oil Empire Super 25-lap features.
In the first feature Preston dominated until the late going when Billy VanInwegen and Danny Varin caught him in heavy lap traffic. Preston was up to the challenge holding VanInwegen by 0.398 and Varin by 0.590.
In the August 16 holdover feature it was an unusual yellow fest for ESS that would see Jeff Cook build up big leads only to see it go away because of yellow flags. On lap 15 Preston would make the winning pass going on to his second win of the night. Matt Tanner, Jeff Cook, Chuck Hebing and Josh Pieniazek would chase Preston to the checkers.
The 'D-Shaped Dirt Demon will be quiet until Friday, September 13 when the cars and stars of the Modified Super DIRTcar Series will do battle in the Duel at the Demon 100. Joining the Modifieds will be the DIRTcar Sportsman Championship Series in the Duel at the Demon 50.
Pit gate will open at 3:30 pm, grandstands 5:30 pm, hot laps 6:20, group time trials 6:45 pm, first qualifying heat 7:30 pm.
Check the speedway website www.brewertonspeedway.com and the track Facebook page in the coming days for more information.
Any questions you might have and for marketing opportunities contact Cory Reed at (315) 668-6906 or cory@brewertonspeedway.com.
87 Speed August 30 Championship Night Results
(Tracey Road Equipment DIRTcar Modifieds 35 Laps) – LARRY WIGHT, Tom Sears Jr., Jimmy Phelps, Billy Decker, Chris Hile, Tyler Trump, Chad Phelps, Rob Bellinger, Roy Bresnahan, Pat Ward, Ron Davis III, Andrew Ferguson, Nick Krause, Katelyn Hile, Tim Harris, Tim Sears Jr., DNS Jim Witko.
(2019 Modified Track Champion) – Larry Wight.
(DOT Foods DIRTcar Sportsman 25 Laps) – ZACH SOBOTKA, Alan Fink, Chris Mackey, Quinn Wallis, Jim Spano, Brandon Carvey Kevin Root, Tyler Murray, Bob Henry Jr., Mark Yorker, Amy Holland, Corey Barker, Dylan Zacharias, Jeff Prentice, Sean Beardsley, Willy Decker Jr., Colby Herzog, Bailey Groves, Joe Sobotka, Earl Rudy, Jason Amidon, JJ Courcy, Jeff Taylor, Tim Devendorf, John Strickler, Rich Townsend, Mike Fowler, Brian Evenden,
(2019 Sportsman Track Champion) – Kevin Root.
(U.S Air Force Mod Lites 20 Laps) – CLAYTON BREWER III, Mike Mullen, Kyle Demo, Casey Sykes, Justin Williams, Joe Garafolo, Tucker Halliday, Hunter Lawton, Tom Mackey, Roger Olschewske, Kelly Skinner, Ben Reed, DNS Zack Babcock.
 (2019 Mod Lite Track Champion) – Casey Sykes.
 (Lucas Oil Empire Super Sprints 25 Laps) – JONATHAN PRESTON, Billy VanInwegen, Danny Varin, Jason Barney, Davie Franek, Larry Wight, Chuck Hebing, Sam Reakes IV, Josh Pieniazek, Ryan Harrison, Matt Tanner, Tommy Wickham, Jeff Cook, Brett Wright, Paulie Colagiovanni, Ryan Coniam, Emily VanInwegen, Josh Izzi, Kelly Hebing, Alex Bergeron, Tyler Cartier, Shawn Donath, Denny Peebles, Kyle Moffit.
 (Lucas Oil Empire Super Sprints 8/16 Holdover 25 Laps) – JONATHAN PRESTON, Matt Tanner, Jeff Cook, Chuck Hebing, Josh Pieniazek, Sam Reakes IV, Denny Peebles, Kelly Hebing, Tyler Cartier, Tommy Wickham, Paulie Colagiovanni, Jason Barney, Shawn Donath, Scott Holcomb.
Back to News