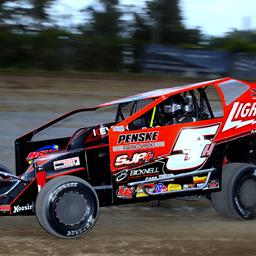 8/27/2019
Brewerton Speedway
---
Friday, August 30 Brewerton Speedway Set For Double Sprint Car Features Plus Championships Decided In Modifieds, Sportsman and Mod Lites
BREWERTON, NY – Kick off what many consider the last blast of summer this Labor Day weekend when the Brewerton Speedway has a big show where there will be double the Sprint Car excitement, plus track champions crowned this Friday, August 30 presented by 87 Speed.
The winged warriors of the Lucas Oil Empire Super Sprints will kick-off the night with their high flying, clay slinging, holdover 25-lap feature from earlier this month and then a whole new show of qualifying and another edge-of-your seat 25-lap main.
Exciting point titles will be decided in the Tracey Road Equipment DIRTcar Modifieds, DOT Foods DIRTcar Sportsman and U.S Air Force Mod Lites.
Adult grandstand admission is $22 with everyone 18 years old and younger, free. Pit admission is $35. Grandstands will open at 5:30 pm with racing at 7:30 pm.
Top-Five Division point standings coming into Championship Night:
Modifieds – 83x – Tim Sears Jr. (606) 99L – Larry Wight (592) 91 – Billy Decker (586) 62s – Tom Sears Jr. (580) 98H – Jimmy Phelps (540).
Sportsman – 34R – Kevin Root (653) 3 – Chris Mackey (638) 8 – Alan Fink (636) 38 – Zach Sobotka (578) 1 – Mark Yorker (573).
Mod Lites – 16x – Casey Sykes (632) 10w – Justin Williams (568) 06 – Mike Mullen ( 548) 50 – Doug Williams (490) 55 – Joe Garafolo (480).
The Brewerton Speedway would like to thank event presenting sponsor 87 Speed owned by Lucas Oil Empire Super Sprints fan favorite Jason Barney.
87speed is a Racing business based out of Brewerton, NY located at 9508 Chestnut Street. They sell high quality innovative racing products and services. They are the proud distributor of X-1 race cars along with our own line of 87speed branded exclusive products. 87SPEED is also the supplier of multiple brands of parts and accessories that they stand behind in their motto, "We Race What We Sell. "
You can find them on Facebook, and at their website www.87speed.com or call 315-530-5938.
Any questions you might have and for marketing opportunities contact Cory Reed at (315) 668-6906 or cory@brewertonspeedway.com .
For all the latest news visit www.brewertonspeedway.com and like the speedway Facebook & Twitter pages.
Back to News