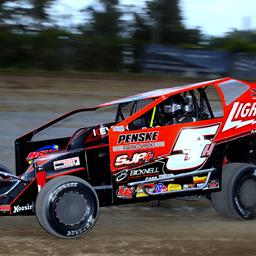 11/20/2018
Brewerton Speedway
---
Billy Decker And LJL Gypsum Racing Reunite For The Super DIRTcar Series And Brewerton Speedway
PHOENIX, NY – November 19, 2018 – One of the winningest combinations in the Modified Super DIRTcar Series and DIRTcar weekly competition was car owner John Wight, crew chief Scott Jeffery and driver Billy Decker.
In an exciting announcement they will once again team up for a 2019 all-out assault on the Modified Super DIRTcar Series plus weekly racing at the Brewerton Speedway in the Tracey Road Equipment DIRTcar Big Block Modifieds.
When asked how this all came about, Billy Decker said "John (Wight) and me stayed close, even after we went our separate ways."
"A couple weeks ago John and I talked and he asked what my plans were for next season? I told him I was open to offers.�
Decker said it wasn't a tough decision to rejoin the LJL Gypsum Racing team. "We had a lot of fun and success in the past, and I'm comfortable around Scott Jeffery.� Decker finished up by saying John Wight, Scott Jeffery and himself have their eye squarely on trying to getting victories and win the Modified Super DIRTcar Series title.
Crew Chief Scott Jeffery said he is excited to get back on the road with Decker and at the Brewerton Speedway and related like Decker the goal is wins and titles.
Decker will have new Bicknell chassis powered by stout LJL Kevlar Racing Engines with Integra Racing shocks at his disposal.
The first races for Billy Decker and Gypsum Racing will be in February at the DIRTcar Nationals at the Volusia Speedway Park.  The Modified portion of the Nationals will hit the speedway Tuesday, February 12th through Saturday, February 16th.
Scott Jeffery will still be working with Super DIRT Week Big Block Modified Champion and DIRTcar 358 Modified Series Champion Larry Wight. With Wight's booming dump truck and dump trailer division of the Gypsum Express Companies, it will see Wight keeping a similar race schedule as he had in 2018.
Billy Decker Super DIRTcar Series & Brewerton Speedway victories:
Super DIRTcar Series wins – 69
Brewerton Speedway Wins – 64
For all the off-season news for Larry Wight, Pat Ward and Billy Decker visit www.gypsumracing.com and like the Facebook page www.facebook.com/GypsumRacing.
Back to News