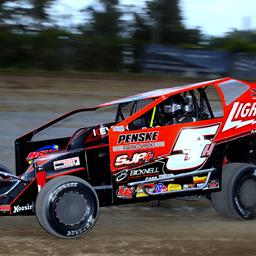 10/2/2018
Brewerton Speedway
---
DIRTcar 358 Modified Series Set To Invade Brewerton Speedway Thursday, October 4 During Super DIRT Week XLVII
 BREWERTON, NY - All roads this Thursday night, October 4 will lead to the Brewerton Speedway when one of the most popular races during Oswego Speedway Super DIRT Week XLVII will take place. On the exciting race card will be the DIRTcar 358 Modified Series 26th Annual Billy Whittaker Cars & Trux Hurricane 100 presented by SUNY Canton. Adding to the racing thrills, the DIRTcar Sportsman Championship Series will do battle on the 'D-Shaped Dirt Demon.'
With Super DIRT Week, just a short distance away at Oswego Speedway, the Brewerton race will attract drivers from all over the Northeast and Canada in clay slinging, side-by-side racing excitement for all in attendance.
In the 25-year previous 'Hurricane 100's,' some of the biggest names in Modified racing have graced victory lane after doing battle on the 'Dirt shaped Dirt Demon.' This Thursday's race should be no different putting on a high-speed show for the fans.
The 2017 event, Chad Brachmann from Ransomville, NY went to victory lane after a hard-fought race with Pat Ward, Tim Sears Jr., Chris Raabe, Erick Rudolph.
Not to be outdone, the DIRTcar Sportsman Championship Series put on a battle royal from the drop of the green to the checkers. Dave Marcuccilli grabbed the victory over Glenn Forward, Tyler Trump, Rocky Warner and Amy Holland.
Event information:
Reserved Seats - Top Three Rows Across All Sections - $30
Adult General Admission - $25
Youth - 6-18 Yrs. Old - $5
5 Yrs. & Under - Free
Pit Passes - $40
Ticket Booth Opens for Sales & Will - Noon
Pits Open - 4:00 pm
Grandstands Open - 4:30 pm
Hot Laps - 6:30 pm
Time Trials - 6:45 pm
First Heat - 7:30 pm
Free Overnight Parking Allowed Only In Central NY Raceway Park. Spectator Vehicles Only Permitted In Main Lot
Hotel Accommodations:
Days Inn Brewerton - (800) 780-7234
Comfort Suites Cicero - (315) 752-0151
The Wight's and the entire Brewerton Speedway staff would like to thank all the fans, marketing partners and race teams for a successful 2018 season. Plans are already underway for an exciting 2019 season at the Brewerton Speedway.
Any offseason questions you might have please contact Cory Reed at cory@brewertonspeedway.com. For all the latest news go to www.brewertonspeedway.com and like the track Facebook page by going to www.facebook.com/BrewertonSpeedway.
Back to News