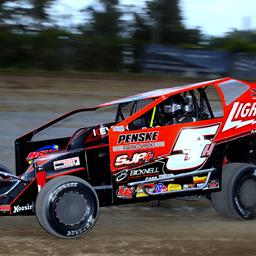 8/29/2018
Brewerton Speedway
---
Friday, August 31 Brewerton Speedway Kicks-Off Labor Day Weekend with Sprint Cars and Big Block Modifieds
BREWERTON, NY – Clay will be flying and the new aluminum grandstands will be shaking from the raw horsepower from Sprint Cars and 800 horsepower Big Block Modifieds to kick off the big Labor Day Weekend at the Brewerton Speedway this Friday, August 31.
On the race card presented by 87 Speed will be the 'Winged Warriors' of the Lucas Oil Empire Super Sprints with Track Champions to be decided in the Tracey Road Equipment DIRTcar Modifieds, SUNY Canton DIRTcar Sportsman and STARS Mod Lites.
The last time the Lucas Oil Empire Super Sprints visited the Brewerton Speedway in July a star-studded field filled the pits with the best 360 Sprint Car drivers in the Northeast, Ontario and Quebec, Canada. In the exciting 25-lap A-Main Quebec's Steve Poirier earned the hard-fought win that came down to the final lap over Chuck Hebing, Larry Wight, Jason Barney and Danny Varin.
Adult grandstand admission will be $22 with everyone 18 years old and younger free. Pit admission is $35. Pit hauler parking will start at 3:30 pm, grandstands 5:30 pm, racing 7:30 pm.
Camping allowed only in the adjacent Central NY Raceway Park to make room for vehicle parking.
All race car haulers please enter through the same Central NY Raceway Park just north of the speedway.
Pit gate will be closed prior to 3:30 pm when hauler parking will start.
The tightest points battle for the Track Championship is in the Modifieds between to heavyweights. Jimmy Phelps will come into Friday night with a slim 12-point lead over Larry Wight.
Top Five Division Point Standing coming into the final points race of the season & champions crowned
 (Tracey Road Equipment DIRTcar Modifieds) – 98H-Jimmy Phelps (542) 99L-Larry Wight (530) 6H-Max McLaughlin (480) 5H-Chris Hile (466) 83x-Tim Sears Jr. (444) 62s-Tom Sears Jr. (444) 84-Gary Tomkins (444).
(SUNY Canton DIRTcar Sportsman) – 34-Kevin Root (644) 82-Will Shields (612) 8-Alan Fink (591) 3-Chris Mackey (582) 38-Zach Sobotka (564).
(STARS Mod Lites) – 10w-Justin Williams (676) 06-Mike Mullen (576) 33-Dave Brown (492) 88-Zack Babcock (482) 55-Joe Garafolo (470).
The Brewerton Speedway would like to welcome 87 Speed owned by Lucas Oil Empire Super Sprints defending series champion, Jason Barney.
87speed is a Racing business based out of Brewerton, NY located at 9508 Chestnut Street. They sell high quality innovative racing products and services. They are the proud distributor of X-1 race cars along with our own line of 87speed branded exclusive products. 87SPEED is also the supplier of multiple brands of parts and accessories that they stand behind in their motto, " We Race What We Sell. "
You can find them on Facebook , and at their website www.87speed.com or call 315-530-5938.
Any questions you might have and for marketing opportunities please contact Cory Reed (315) 668-6906 or cory@brewertonspeedway.com.  For all the latest news go to www.brewertonspeedway.com . Like the track Facebook page www.facebook.com/BrewertonSpeedway .
Back to News