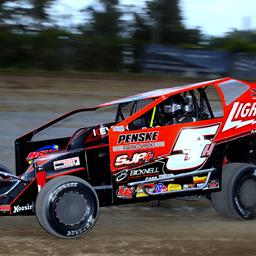 8/22/2018
Brewerton Speedway
---
Two Point Races Left To Decide The 2018 Brewerton Speedway Track Champions
BREWERTON, NY – This Friday, August 24 Mirabito and VP Small Engine Fuels will present a night of high speed, side-by-side, exciting family affordable fun racing at the Brewerton Speedway.
With just two-point races left to decide 2018 Track Champions in the Tracey Road Equipment DIRTcar Modifieds, SUNY Canton DIRTcar Sportsman and STARS Mod Lites will be battling it out for titles and to carry momentum into season-ending big events.
The Track Champion will be decided this Friday in the JB Logging & Firewood 4-Cylinders. Ray Bechler and Chuck Powelczyk are tied atop the standings.
The Home Depot Kids Workshop will be in the midway with fun activities for the Jr. Fans.
Adult grandstand admission will be $12 with everyone 18 years old and under free. Pit admission is $27 Member, $30 Non-Member. Grandstands will open at 5:30 pm with racing starting at 7:30 pm.
Top-Five Division Point Standings:
  (Tracey Road Equipment DIRTcar Modifieds) – 98H-Jimmy Phelps (500) 99L-Larry Wight (482) 6H-Max McLaughlin (444) 84-Gary Tomkins (412) 5H-Chris Hile (410).
(SUNY Canton DIRTcar Sportsman) – 34R-Kevin Root (584) 82-Will Shields (562) 8-Alan Fink (531) 3-Chris Mackey (526) 24K-Nick Krause.
(STARS Mod Lites) – 10W-Justin Williams (620) 06-Mike Mullen (576) 33-Dave Brown (446) 99-Shawn Hort (432) 88-Zack Babcock (422).
(JB Logging & Firewood 4-Cylinders) – 26R-Ray Bechler (468) 17-Chuck Powelczyk (468) 21W-Quinn Wallis (426) 17J-Sabrina Jeffries (372) 360-Sam Curcie (364).
The Brewerton Speedway would like to welcome event sponsors Mirabito and VP Small Engine Fuels.
The fine folks from Mirabito & M&M's will be on hand giving away their popular candy and swag throughout the night.
Since 1927, Mirabito has been family owned and operated. Â Mirabito provides energy products and services for families and businesses throughout upstate New York, western Massachusetts and Connecticut.
Mirabito Energy Products offers a variety of products including heating oil, propane, natural gas, coal, gasoline, diesel fuels and kerosene. Â They also offer a complete line of home heating equipment, installation and service.
In addition to being an energy provider, Mirabito owns and operates more than 73 convenience stores throughout Central New York, making Mirabito a convenient stop for customers and one of the largest convenience store chains in Central New York.
Mirabito is also the home of Rewards Plus.  Rewards Plus is Mirabito's exciting customer loyalty program that offers members great rewards and money-saving opportunities when they shop at Mirabito Convenience Stores and Mirabito Energy Products!
At Mirabito, they are proud of their history and of all their Mirabito Family of Companies. Their customers are the most important element to their success and they strive to understand and meet their needs. If they can be of service to you, whether it's for energy products or gas and groceries on the way home, they're there to help.
To see everything Mirabito has to offer please visit www.mirabito.com . And remember to support those who support racing.
Why is VP Small Engine Fuel the Perfect Fuel?
First, understand that ethanol in street gas absorbs moisture, forms deposits and degrades the fuel system in your outdoor power tools, making them difficult to start and ultimately requiring expensive repairs.
Prevent ethanol-related problems/ Provide easier, more dependable starts/ remain stable in storage through the off-season and beyond/ Extend engine life/ Avoid costly repairs and rebuilds. VP Small Engine Fuel is available in three blends: 4-Cycle Unleaded Fuel/ 2-Cycle Premixed Fuel +Oil (40:1)/ 2-Cycle Premixed Fuel+ Oil (50:1). To see everything VP Small Engine Fuels can do for you please visit their website at www.vpracingfuels.com/small-engine-fuels/
Any questions you might have and for marketing opportunities please contact Cory Reed (315) 668-6906 or cory@brewertonspeedway.com.  For all the latest news go to www.brewertonspeedway.com .  Like the track Facebook pagewww.facebook.com/BrewertonSpeedway .
Back to News