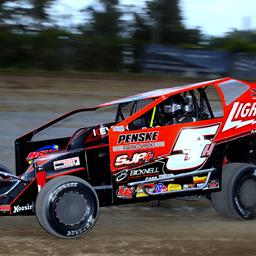 8/15/2018
Brewerton Speedway
---
High Speed Racing Thrills Returns This Friday, August 17 At The Brewerton Speedway
 BREWERTON, NY- This Friday, August 17 Ehrlich Pest Control will present a night of fast, affordable, family fun out at the races.
On the high speed, side by side racing schedule will be the Tracey Road Equipment DIRTcar Modifieds, SUNY Canton DIRTcar Sportsman, STARS Mod Lites and JB Logging & Firewood 4-Cylinders.
Adult grandstand admission is $12, with everyone 18 years old and under free. Pit is $27 Member, $30 Non-Member. Grandstands open at 5:30 pm with racing at 7:30 pm.
With only two-point races left in the 4-Cylinders and three in the Modifieds, Sportsman and Mod Lites to crown 2018 Track Champions, here is the top-five divisional point standings coming into Friday.
 (Tracey Road Equipment DIRTcar Modifieds) – 98H-Jimmy Phelps (500) 99L-Larry Wight (482) 6H-Max McLaughlin (444) 84-Gary Tomkins (412) 5H-Chris Hile (410).
(SUNY Canton DIRTcar Sportsman) – 34R-Kevin Root (584) 82-Will Shields (562) 8-Alan Fink (531) 3-Chris Mackey (526) 24K-Nick Krause.
(STARS Mod Lites) – 10W-Justin Williams (620) 06-Mike Mullen (576) 33-Dave Brown (446) 99-Shawn Hort (432) 88-Zack Babcock (422).
(JB Logging & Firewood 4-Cylinders) – 26R-Ray Bechler (468) 17-Chuck Powelczyk (468) 21W-Quinn Wallis (426) 17J-Sabrina Jeffries (372) 360-Sam Curcie (364).
The Brewerton Speedway would like to welcome back Ehrlich Pest Control who keeps the Brewerton and Fulton Speedways pest free.
Ehrlich offers fast, responsive service. Their effective, customized pest control solutions include Fumigation, Bed Bug Control, Termite Control and more – all provided by local offices throughout the east coast from Connecticut to Florida. To find your local office for your business or residence go to www.jcehrlich.com or call 1-877-458-5520. As always, remember to support those who support racing.
Any questions you have about the 2018 season or for marketing opportunities please contact Cory Reed (315) 668-6906 or cory@brewertonspeedway.com . For all the latest news go to www.brewertonspeedway.com-Facebook page www.facebook.com/BrewertonSpeedway
Back to News