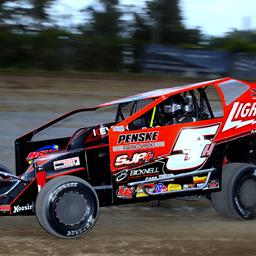 10/6/2017
Brewerton Speedway
---
Brachmann & Marcuccilli Hurricane 100 & Hurricane 50 Winners
Hurricane Brachmann and Marcuccilli Move Through Brewerton Speedway 
BREWERTON, NYÂ - October. 5, 2017 - Brewerton Speedway and the Hurricane 100 took center stage Thursday night during NAPA Super DIRT Week satellite show. It was Chad Brachmann that worked his way up from the eighth starting spot to hold off Pat Ward on a late-race restart en route to picking up the win in the Hurricane 100.
During the first half of the race, it was the polesitter Mario Clair that jumped out to an early lead, however, the yellow flag was displayed on lap one quickly slowing the field. On the ensuing restart Alan Johnson beat Clair back to the line to take the lead. Clair was just too strong has he regained the lead from A. Johnson.
Chad Brachmann who started in the eighth position worked his way to the front and would battle side-by-side with Clair for 10 laps before checking out with a five-car length lead.
We've been here so many times and have had nothing but bad luck," said Chad Brachmann. "I told my guys that we're going back to Brewerton [Speedway] this year cause we're going to tame it, so for us to come here tonight was awesome!"
Just after the halfway point of the Hurricane 100, Danny Johnson and Pat Ward wanted their shot at Brachmann and the lead but neither could make it work.
With It would be the fifth-place starter Pat Ward and Brachmann that would square up and do battle neck to for the top spot. The two would enter lap traffic with 32 laps remaining, that that is where Brachmann would excel. Masterfully picking his way through lap traffic, Brachmann opened up a solid lead over Pat Ward and Danny Johnson.
The battle for second place started to heat up between Ward and D. Johnson, however, with seven laps remaining, D. Johnson pulled to the infield, effectively ending his night.
With four laps to go, the No. 54 of Steve Bernard who was directly in front of the leader did a 360 spin, bringing out the yellow flag setting up a late-race single-file restart.
"The I kept telling myself, stick to my plan but this car was awesome, I owe a lot to everyone that helps me and all my guys," added Bachmann.
Pat Ward made a bid to the outside of Brachmann but at the end, it was Brachmann who took home the Hurricane 100 at Brewerton Speedway and the $5,000 dollar payday.
The action moves back to Oswego Speedway when the 358 Modifieds take to the 5/8th-mile Clay Palace for practice at 3:35 p.m. The 358 Modifieds will conclude their Friday program with Twin-25's qualifying events during the Camping World Friday Night Lights portion of Super DIRT Week to continue to set the lineup for Saturday's Great Outdoor RV 150. For more information on NAPA Super DIRT Week visit SuperDIRTWeek.com
Marcuccilli Runs Away With Hurricane 50:
The Hurricane 50 drew a stellar field of 69 Sportsman DIRTcar Modifieds Thursday night at the Brewerton Speedway.
Tyler Trump and Rocky Warner shared the front row for the 50-lap Feature with Warner taking command from the outset. Trump battled hard with Martin Pelletier and Rick Yelle for the runner-up spot, allowing Warner to extend his advantage.
By lap 13, 7th-starting Dave Marcuccilli had worked his way into the third position behind Warner and Trump.
A yellow on the following lap erased Warner's lead and put Trump and Marcuccilli on his tail. Marcuccilli quickly disposed of Trump and set his sights on Warner.
Marcuccilli was closing in ever so slightly on Warner and by the halfway point, the two were separated by no more than two car-lengths. The duo stayed that distance for upwards of ten laps before a lap 35 yellow lined Warner and Marcuccilli side by side.
Marcuccilli, who was strong on restarts on all evening, pounced on Warner setting up a big slide job in turn two on the 37th circuit. Marcuccilli slid across the track halting the momentum of Warner, allowing 11th-starting Glenn Forward to move by Warner as well.
Forward, who won Tuesday's satellite show at Utica-Rome, stayed pace with Marcuccilli momentarily but was unable to mount a threatening challenge as the latter went on to capture the Hurricane 50 in convincing fashion over the final 15 laps.
Marcuccilli, who was celebrating his 41st birthday, thrilled his fans with a burnout in turn four before parking his No. M1 in Victory Lane.
"Going into that Feature, I didn't think we were going to be as good as we were in the slick stuff," a relieved Marcuccilli said.
When asked about his pass for the lead on Warner, Marcuccilli cited, "I could get a run on him and get on his back bumper, but getting by him was a different story. That caution helped us. I was able to get good drive off the middle."
"This is pretty awesome. A great way to start DIRT week. Hopefully, we can carry this speed into Oswego tomorrow," Marcuccilli added.
Forward settled for second and was strong in short bursts. "Those late cautions really helped us. The longer the race went Green, the looser we got," Forward said.
"Coming from 11th, I can't complain," Forward said with a smile. "We finally got this thing going."
Trump settled for third and mentioned his weakness on the night was the restarts that the other podium finishers cited as a strong suit.
Billy Whittaker Cars Trux DIRTcar 358 Modified Series Hurricane 100 & DIRTcar Sportsman Championship Series Hurricane 50 By SUNY Canton
(DIRTcar 358 Modified Series Hurricane 100) – CHAD BRACHMANN, Pat Ward, Tim Sears Jr., Chris Raabe, Erick Rudolph, Tommy Flannigan, Demetrois Drellos, Larry Wight, Billy Dunn, Tom Sears Jr., Brett Hearn, Steve Bernard, Mike Bowman, Michael Maresca, Michael Parent, Scott Wood, Bobby Herrington, Ryan Arbuthnot, Lance Willix II, Danny Johnson, Simon Perreault, Alan Johnson, Carey Terrence, Alex Therrien, Mario Clair, Billy Decker, Ryan Susice, Roy Bresnahan, Ron Davis III, Jordan McCreadie.
(Cars Entered) – 52
(Thanks to Myers RV, Rosie's Corner & Handle Bars & Cars- In Memory Of Ryan Baye Halfway Leader Bonus $500) – Chad Brachmann.
(DIRTcar Sportsman Championship Series Hurricane 50) – DAVE MARCUCCILLI, Glenn Forward, Tyler Trump, Rocky Warner, Amy Holland, Cody McPherson, Ron Davis III, Will Shields, Martin Pelletier, Jessica Power, David Schilling, Chris Mackey, Rocco Leone, Corey Barker, Adam Pierson, Ricky Yelle, Kyle Inman, Tyler Thompson, Ryan Stabler, Alex LaJoie, Todd Root, Ben Wheeler, Dan Ferguson, Brad Rouse, Kevin Ridley, Alan Fink, Brent Joy, Billy Clark Jr., Tom Collins,
(Cars Entered) – 69
 
NAPA Auto Parts Super DIRT Week - Oswego 
is brought to fans by many important sponsors and partners, including: NAPA Auto Parts, I Love New York, Billy Whittaker Cars and Trux, Great Outdoors RV Superstore, Other Super DIRT Week sponsors include: A-Verdi, Area Auto Racing News, ASi, Bart Contracting Inc, Beyea Headers, Bibbens Sales & Service, Bilstein, Camping World, Chevrolet Performance, Cometic Gasket, Comp Cams, Dig Safely NY, Dirt Track Digest, Fast Shafts, Fluidampr, Fox Shox, Gypsum Express, Integra Racing Shocks, Intercomp, JE Pistons, JRi Shocks, KSE, MSD, NESCOT, Northeast Racing Products Auction and Trade Show, PAC Racing Springs, Penske, Racing Electronics, Schoenfeld Headers, Sowle Auto Body, Superflow, Tracey Road Equipment, Unique eCigs, VP Racing Fuels, Wrisco Aluminum.
Super DIRTcar Series sponsors: ASI, Bilstein, Comp Cams, Edelbrock, Impact Race Products, JE Pistons, JRi Shocks, KSE, MSD, Superflow, Wrisco Aluminum. DIRTcar sponsors: Chevy Performance, Hoosier Racing Tire, Impact Race Products, Intercomp, Racing Electronics, TNT Rescue, VP Racing Fuel. DIRTcar HP sponsors: Comp Cams, Edelbrock, JE Pistons, MSD, Superflow, VP Racing Fuel. 358 Modified sponsors: Beyea Headers, Bicknell, Fox Shocks, MSD, Schoenfeld Headers Sportsman Modified sponsors: Beyea Headers, Fox Shocks, Schoenfeld Headers. BB Modified sponsors: Cometic Gasket, Dig Safely NY, Fox Shocks, Schoenfeld Headers.
Back to News