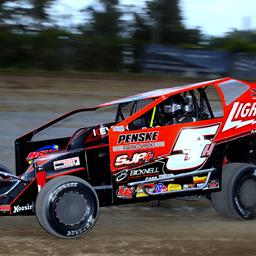 10/3/2017
Brewerton Speedway
---
DIRTcar 358 Modified Series Set To Invade Brewerton Speedway Thursday, October 5 During Super DIRT Week XLVI
BREWERTON, NY – October 2, 2017 -  All roads this Thursday night, October 5 will lead to the Brewerton Speedway when one of the most popular races during Oswego Speedway Super DIRT Week XLVI will take place. On the exciting race card will be the DIRTcar 358 Modified Series 25th Annual Billy Whittaker Cars & Trux Hurricane 100 presented by SUNY Canton. Adding to the racing thrills, the DIRTcar Sportsman Championship Series will do battle on the 'D-Shaped Dirt Demon.'
With Super DIRT Week, just a short distance away at Oswego Speedway, the Brewerton race will attract drivers from all over the Northeast and Canada in clay slinging, side-by-side racing excitement for all in attendance.
In the 24-year previous 'Hurricane 100's,' some of the biggest names in Modified racing have graced victory lane after doing battle on the 'Dirt shaped Dirt Demon.' This Thursday's race should be no different putting on a high-speed show for the fans.
The 2016 event, Billy Decker behind the wheel of the Jeremy Smith owned No.46 went to victory lane after a hard-fought race with Ryan Susice, Danny Johnson, Alan Johnson and Billy Dunn.
Not to be outdone, the DIRTcar Sportsman Championship Series put on a battle royal from the drop of the green to the checkers. Brad Rouse grabbed the narrow victory over Rocky Warner by 0.614 of a second at the checkers. Tyler Trump, Taylor Caprara and Corey Barker rounded out the top-five.
2017 Hurricane 100 Notes.
Admission:
Adult 15 and older – $25
Youth 6-14 – $10
5 and under Free
Pit Passes – $40
All Seats general admission
Camping only allowed in the adjacent lot (Central NY Raceway Park) north of the speedway.
Race Day Schedule:
Pits open for early Hauler Parking – Noon – 4:00 pm
Ticket Booth opens for sales and will call – Noon
Fan Blanket Placement ($5) 3:00 pm -3:30 pm.
Pits Open – 4:30 pm
Grandstands open – 4:30 pm
Hot Laps – 6:30 pm
Time Trials – 6:45 pm
First Heat – 7:30 pm
The BrewertonSpeedway would like welcome long time major marketing partners Billy Whittaker Cars & Trux and SUNY Canton.
If you are in the market for a new car or truck, look no further than Billy Whittaker Cars and Trux, they are just a quick run north of Brewerton Speedway on Rt. 11 between Brewerton and Central Square.  Check out their website  www.trophyauto.com  for a selection of over 250 vehicles.  Looking for a nice car for $30, $40 or $50 dollars a week? They have them.   Or how about Billy's Showcase Cars, year-old, late model, low mileage cars for only $60 a week.   Check out their like-new TRUX for only 70 bucks a week.
They are also an official NAPA Auto Care Center, serving all of Central New York, Syracuse and Surrounding Areas.  Need financing?  Click on their 40 second finance application right now.   Billy Whittaker Cars & Trux, nice cars and trux that are Good to Go! To see the great inventory they have to offer please visit www.trophyauto.com (315) 668-CARS . As always, support those who support racing.
SUNY Canton has been long known as one of the top schools in the State Universities of New York system of schools, and also in all of the Northeast. What SUNY Canton is, is a family atmosphere with class sizes that allow all professors and instructors to know their students on a one-to-one basis.
Everything they have to offer is too numerous to mention here so please visit www.canton.edu    to see all the opportunities they have. As they say at SUNY Canton, "Great Majors, Great Careers.� As always please support those who support racing.
2016 Hurricane 100 & DIRTcar Sportsman Championship Series Results
(DIRTcar 358 Modified Series Hurricane 100) – BILLY DECKER, Ryan Susice, Danny Johnson, Alan Johnson, Billy Dunn, Pat Ward, Tim Sears Jr., Chris Raabe, Jimmy Phelps, Ryan Bartlett, Mike Maresca, Ronnie Johnson, Larry Wight, Mike Mahaney, Kyle Dingwell, Danny Creeden, David Herbert, Gary Lindberg, Scott Wood, Demetrois Drellos, Roy Bresnahan, Tommy Flannigan, Jean-Francois Corriveau, Jordan McCreadie, Randy Chrysler, Lance Willix II, Mario Clair, Danny O'Brien, Joey Ladouceur, Carey Terrance, Yan Bussiere.
(DIRTcar Sportsman Championship Series Hurricane 30 ) – BRAD ROUSE, Rocky Warner, Tyler Trump, Taylor Caprara, Corey Barker, Jackson Gill, Kevin Root, Zach Sobotka, Dave Marcuccilli, Shane Pecore, Brianna Ladouceur, Todd Root, Ron Davis III, Glenn Forward, Rocco Leone, Aaron Pierson, Dylan Davidson, Rich Townsend, Jessica Power, Chris Cunningham, Kevin Chaffee, Dan Ferguson, Louie Jackson Jr., Tony Finch II, Billy Clark Jr., Martin Pelletier, Tom Collins Jr., Alex LaJoie, Jordan Kruskie, Michael Sabia.
Any questions you might have and for 2018 marketing opportunities contact Cory Reed (315) 668-6906 or cory@brewertonspeedway.com.
Back to News