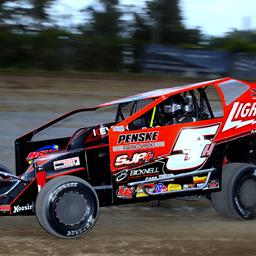 9/9/2017
Brewerton Speedway
---
The Brewerton Speedway Welcome Muscular Dystrophy Association As Part Of The Duel At The Demon On Friday, Sept 15
BREWERTON, NY – September 10, 2017 – When there are people in need nobody steps up like the racing family. On Friday, September 15 folks from the Muscular Dystrophy Association will be on hand at the Brewerton Speedway for the Modified Super DIRTcar Series "Duel at the Demon 100� and the DIRTcar Sportsman Championship Series "Duel at the Demon 50� presented by Gillee's CITGO Lubricants.
On race night MDA is asking race fans to wear blue in support for people living with muscle disease. MDA is dedicated to helping those with muscle disease and the families who love them, live longer and grow stronger. Through their many local programs and the generosity of the community those served by MDA can lead life without limits.
David Ciesieski, from the Syracuse chapter of the MDA talked about their presence at the speedway, "Race fans should look for MDA representatives in the parking lot collecting voluntary parking donations. We will have signage, and guests will have the opportunity to contribute. Additionally, MDA will have a location set up inside the speedway where fans can donate and learn a bit more about MDA, our mission and services, as well as how they can get further involved. These donations are completely voluntary, and anything that they can contribute is both greatly needed and immensely appreciated.�
The monies raised will go to support life-saving research, MDA care centers (such as the one at Upstate Medical Center in Syracuse, NY), MDA Summer Camp, MDA's unique Loan Closet program, local support groups, young adult programs and much more.
Also, between now and September 13, all Syracuse area NAPA locations, and tonight's presenting sponsor, the 12 Gillee's NAPA stores www.gillieesnapa.com  , are selling Live Unlimited pin-up mobiles for MDA; people can donate by purchasing one at the register for $1 or $5.
To learn more about MDA please visit www.mda.org plus like their Facebook page at www.facebook.com/MDAsyracuse and Twitter@MDAsyracuseNY.
Adult grandstand admission is $25/ 6-14 years old  $10/ Pit $40.
Pit opens at 4:00, Grandstand 5:30, Hot Laps 6:30, Time Trials 6:45, Heats 7:30.
Any questions you might have and for 2018 marketing opportunities contact Cory Reed at (315) 668-6906 or cory@brewertonspeedway.com. For all the latest news and offseason news go to www.brewertonspeedway.com and the Facebook page www.facebook.com/BrewertonSpeedway.
Back to News