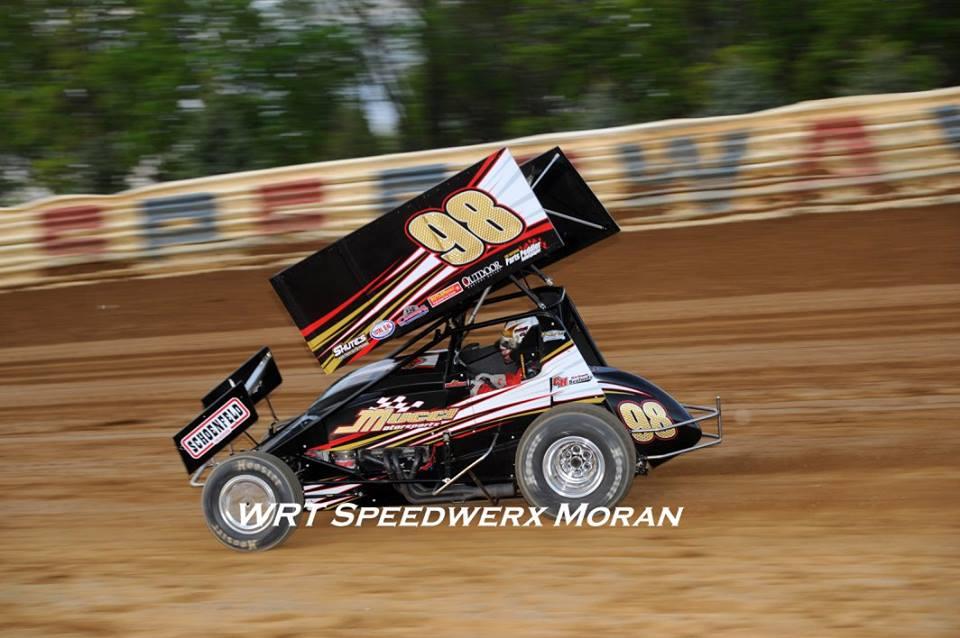 9/1/2015
Inside Line Promotions
---
Trenca Entering Empire Super Sprints Tripleheader This Weekend in New York
(Photo by Tim's Racing Photos)
Inside Line Promotions – CLAY, N.Y. (Sept. 1, 2015) – Joe Trenca is prepared to face a Lucas Oil Empire Super Sprints tripleheader this weekend.
Trenca and his Mucci Motorsports team will compete on Friday at Brewerton Speedway in Brewerton, N.Y.; on Saturday at Thunder Mountain Speedway in Center Lisle, N.Y.; and on Sunday at Utica-Rome Speedway in Vernon, N.Y.
"The goal is to obviously win, but if we could put together three top 10s that would be pretty good, too," he said.
Friday's race at Brewerton Speedway will be Trenca's first at the 3/8-mile track since August of last year.
"We like running there," he said. "It's only five miles from the shop so it's nice for my family to come out. We got some things figured out there last year so I'm excited to return to see where we stack up."
Trenca will then make his debut at Thunder Mountain Speedway on Saturday.
"I've never watched a video or saw a picture of a car at the track there," he said. "We've done that a lot of times this year and done well. It doesn't really bother us. It's another dirt track."
Utica-Rome Speedway is the only track where Trenca has raced this season. He won the B Main before finishing 17th in the main event at the 3/10-mile oval on July 5.
"We figured something out last time," he said. "We started deep in the feature and passed about eight cars in three laps. Then we had a tire seal over on a restart and couldn't do anything after that. Hopefully we'll pick up where we left off with success the last time there."
SEASON STATS –
27 races, 0 wins, 3 top fives, 7 top 10s, 18 top 15s, 21 top 20s
UP NEXT –
Friday at Brewerton Speedway in Brewerton, N.Y.; Saturday at Thunder Mountain Speedway in Center Lisle, N.Y.; and Sunday at Utica-Rome Speedway in Vernon, N.Y., with the Lucas Oil Empire Super Sprints
MEDIA LINKS –
Website: http://www.JoeTrencaRacing.com
Twitter: https://twitter.com/JoeTrencaRacing
Facebook: https://www.facebook.com/JoeTrencaRacing
APPAREL –
Trenca will have t-shirts and hoodies available for sale online and at his race trailer throughout the season. Visit http://www.JoeTrencaRacing.com for more information.
SPONSOR SPOTLIGHT – FK Rod Ends
From the wilds of Baja, Mexico, to the "Good Ole Boys" of NASCAR, from mowers to fitness equipment, FK Rod Ends is there with an evolving program designed to supply rod end products to users everywhere. For more information, visit http://www.FKRodEnds.com.
"We're really excited to work with FK Rod Ends this year," Trenca said. "They have an outstanding track record and we look forward to reaching Victory Lane with them."
Trenca would also like to thank Mucci Motorsports, Fast Axle, Stars and Stripes Tool Inc., National Parts Peddler, Weld Wheels, Empire Sub Shop, ButlerBuilt Professional Seat Systems, Seals-It, Schoenfeld Headers, Total Seal Piston Rings, Shell Shock Helmets, Wilwood Brakes, Shute's Water Systems, GF1 Chassis, Ti22 Performance, Driver Websites, Inside Line Promotions, Ken's Auto Body, Slade Shock Technology, Don Ott Racing Engines and Hammerdown Photography for their continued support.
PARTNERSHIP OPPORTUNITIES –
Trenca is seeking additional marketing partners to get more experience by traveling and taking advantage of opportunities in the 410ci sprint car ranks. To learn more about options to team up with Mucci Motorsports, call Joe at 315-481-6080.
INSIDE LINE PROMOTIONS –
Inside Line Promotions specializes in affordable public relations and media management for motor sports drivers, teams, sponsors, tracks, series, events, organizations and manufacturers. ILP Founder Shawn Miller leverages professional journalism with new media technologies and social networking to improve your exposure and the return on investment for your sponsors.
To meet the media relations needs of your program by joining Team ILP, contact Shawn at 541-510-3663 or Shawn@InsideLinePromotions.com. For more information on Inside Line Promotions, visit http://www.InsideLinePromotions.com.
---
Article Credit: Inside Line Promotions
Submitted By: Shawn Miller
Back to News