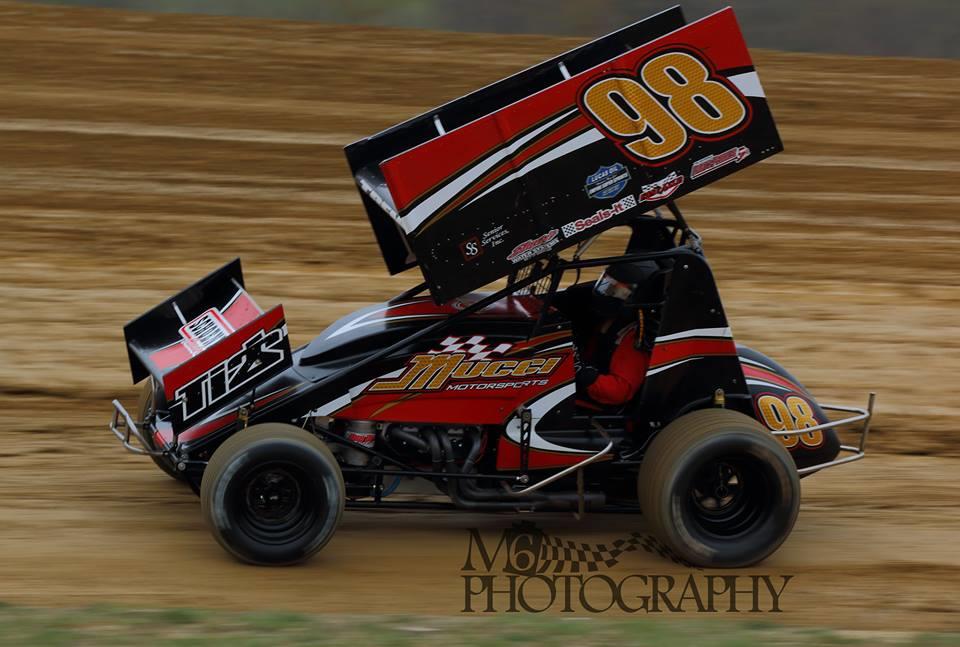 8/19/2014
Inside Line Promotions
---
Trenca Ends Upside Down During Battle for First Podium Finish of Season
(Photo by M6 Photography)
Inside Line Promotions – BREWERTON, N.Y. (Aug. 19, 2014) – Joe Trenca was on pace for a season-best finish last Friday at Brewerton Speedway.
Unfortunately, he was caught up in a crash in the closing laps during the Lucas Oil Empire Super Sprints event that ended with him upside down.
After advancing from sixth to fourth place in his heat race, Trenca earned a spot in the feature redraw. He then pulled the No. 2 in the random draw to line up on the outside of the front row of the main event.
"There were three initial starts," he said. "The first one he got me. The second one I took the lead. And the third one he went back to the lead. We fell back to fifth and then the car started coming in a lot better."
Trenca spent the majority of the race battling for his second top five of the season and he was in contention for his first podium of the year late in the feature.
"Second to fifth place were all next to each other," he said. "I was battling for fourth and I went under a lapped car. It came down on me and we ended upside down. I got t-boned right before I went over."
The collision with about five laps remaining relegated Trenca to a 14th-place result.
"It definitely sucked being so good and having that happen, but that's what happens sometimes in racing," he said. "We've been upside down a lot this year so that's a tough part about it."
Trenca is slated to return to Pennsylvania this weekend for a pair of events. He will compete on Friday with the URC Series at Williams Grove Speedway in Mechanicsburg.
"I'm excited to go back down to Pennsylvania," he said. "There's going to be a lot of cars on Friday so just making the show would be great. Getting back on a consistent track and have some good finishes toward the end of the year is the goal."
The weekend will wrap up on Saturday at Selinsgrove Speedway in Selinsgrove.
"We've been really good down there this year and I'm really confident in the car," he said.
QUICK RESULTS –
Aug. 15 – Brewerton Speedway in Brewerton, N.Y. – Heat race: 4 (6); Feature: 14 (2).
SEASON STATS –
23 races, 0 wins, 1 top five, 4 top 10s, 12 top 15s, 19 top 20s
UP NEXT –
Friday at Williams Grove Speedway in Mechanicsburg, Pa., with the URC Series and Saturday at Selinsgrove Speedway in Selinsgrove, Pa.
MEDIA LINKS –
Website: http://www.JoeTrencaRacing.com
Twitter: https://twitter.com/JoeTrencaRacing
Facebook: https://www.facebook.com/JoeTrencaRacing
APPAREL –
Trenca will have t-shirts and hoodies available for sale online and at his race trailer throughout the season. Visit http://www.JoeTrencaRacing.com for more information.
SPONSOR SPOTLIGHT – Shute's Water Systems
Shute Water Systems has been installing quality in Central New York for more than 48 years. It is a full-service company with services including water well drilling, pump installation and service, water well cleaning, abandonment, water treatment systems and excavation services. For more information, visit http://www.ShutesWaterSystems.com.
"Shute's Water Systems has always watched me race and helped us out each year," Trenca said. "They've been with us since Day 1 and we really appreciate their support."
Trenca would also like to thank Mucci Motorsports, Outdoor Factory Outlet, Fast Axle, National Parts Peddler, Shell Shock Designs, Keizer Aluminum Wheels, Total Seal Piston Rings, Schoenfeld Headers, Pepsi, GF1 Chassis, Ti22 Performance, Seals-It, Driver Websites, Inside Line Promotions, Ken's Auto Body, Slade Shock Technology, ButlerBuilt Professional Seat Systems, Don Ott Racing Engines and Hammerdown Photography for their continued support.
INSIDE LINE PROMOTIONS –
Inside Line Promotions specializes in affordable public relations and media management for motor sports drivers, teams, sponsors, tracks, series, events, organizations and manufacturers. ILP Founder Shawn Miller leverages professional journalism with new media technologies and social networking to improve your exposure and the return on investment for your sponsors.
To meet the media relations needs of your program and to join Team ILP, contact Shawn at 541-510-3663 or InsideLinePromotions@gmail.com. For more information on Inside Line Promotions, visit http://www.InsideLinePromotions.com.
---
Article Credit: Inside Line Promotions
Submitted By: Shawn Miller
Back to News